You might not think about your teeth much, beyond routine cleanings, brushing them in the morning and at night, or the odd time you get a piece of spinach stuck in there, causing a funny-looking smile. However, you might not be able to think about much else if they start causing you discomfort or sudden pain.
One of the uncomfortable feelings people may experience in their teeth is sensitivity. Why does this happen, how can you prevent it, and how can you make it go away? And quickly!
Feeling Fresh
Let's say you take care of your teeth every day. You brush them, floss them, and use mouthwash as often as your dentist tells you to. They look great and serve you well, chomping away and crushing up your food, day in and day out.
Even still, you could experience the uncomfortable sensation of sensitive teeth. You may ask yourself, "why is this happening to me?" when you take care of your teeth to the best of your ability. If you know you've been falling behind on oral health care, then the sensitivity may not come as too much of a surprise, but that doesn't make it any less uncomfortable.
Signs of Sensitivity
Tooth sensitivity can be difficult to describe if you haven't experienced it before. Sometimes it feels like a sharp, temporary pain in the tooth. It may also feel like a dull, deep ache that doesn't go away. Sensitivity can affect one or more teeth at the same time.
Activities that can provoke tooth sensitivity may include:
Hot food or drinks
Cold food or drinks
Sugary or sweet food or drinks
Alcohol-based mouthwash
Cold air, especially in the winter months
Brushing or flossing routines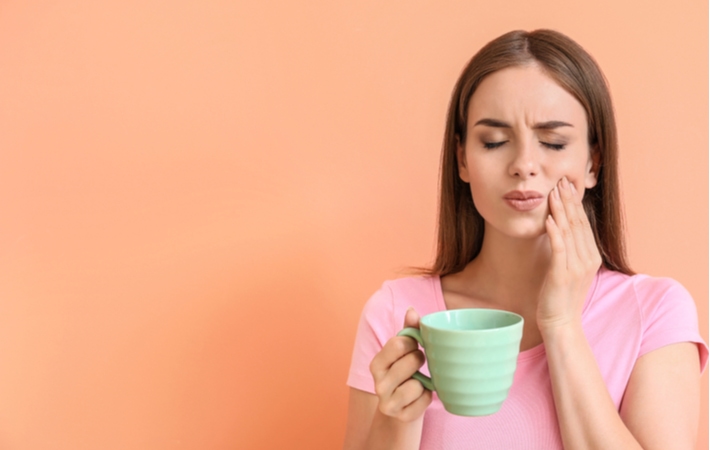 What Causes Sensitive Teeth?
You may think tooth sensitivity is only a result of an activity you are doing at the time you experience the sensation, but tooth sensitivity can be a sign of a more serious issue.
Your tooth sensitivity could be a result of:
Cracked or chipped teeth
Tooth decay (cavities)
Inflamed gums
Infected teeth
Frequent tooth whitening
Visiting your dentist can help determine the cause of your tooth sensitivity and if you require special treatments to help resolve the issue.
Sensitive Teeth Solutions
Tooth sensitivity should never be ignored. Your first step is to visit your dentist for an examination and assessment of the issues you are experiencing.
Your dentist can recommend a resolution to your pain. Some solutions may include filling existing cavities, root canals to remove unhealthy tooth pulp, wearing a nightguard and including sensitivity toothpaste in your oral care routine.
Why Do Cavities Cause Sensitivity?
A cavity is the result of tooth decay. When this occurs, the nerve inside the tooth can be exposed to bacteria, causing uncomfortable sensations. If the cavity is left untreated, it can cause further issues that may require additional solutions, like a root canal or tooth removal.
When your dentist fills a cavity, they remove tooth decay and replace the space with a filling. This filling will protect the inside of your tooth from further damage and irritation.
Don't Root Canals Hurt?
Typically, a root canal is performed to control the source of your pain. By removing unhealthy tooth pulp, your dentist is better able to preserve the integrity of your tooth and reduce, or eliminate, the ongoing discomfort you experience.
Other Types of Sensitivity
You could experience other types of sensitivity in your mouth that aren't directly related to the tooth itself.
Gingivitis (gum disease) can cause pain and discomfort near the base of your teeth. Gum disease is typically caused by our immune system's response to the bacteria in plaque that forms on teeth. Symptoms include inflamed gums, bleeding, and bad breath.
Periodontitis is a disease in the bone supporting the teeth and is often the result of untreated gingivitis. If it is not treated it may result in the removal of the affected teeth.
Prevention is the Best Medicine
Taking care of your teeth at home and visiting your dentist regularly are the best methods for preventing tooth sensitivity. Regular appointments allow your dentist to establish a baseline for your dental health and monitor any symptoms you may be experiencing.
Together, you and your dentist can work together to prevent oral health issues from developing. Our teeth play a big role in our lives, from smiling to eating comfortably, so it's important to protect them.