Even when you take perfect care of your teeth, other factors outside of your control could result in injury or infection to your tooth.
You may have heard horror stories about root canals, but nowadays, the procedure is very simple and should be painless. Usually, your dentist will cover the remaining natural tooth with a crown.
Why is this? Does it always have to be a crown? We're here to answer your questions.
What Is a Root Canal?
A root canal is an endodontic treatment performed to remove injured, infected, or dead pulp from your tooth.
Below the hard layer of each tooth is the root canal system. Each tooth is full of soft pulp made up of nerves and blood vessels. A tooth's pulp helps it grow and develop.
If bacteria and germs enter your tooth, it can become abscessed. This can occur from deep cavities, cracks, or flaws in fillings. An abscessed tooth has infected pulp which needs to be removed.
Most abscessed teeth are hard to miss. Your dentist may catch it during x-rays or routine dental work, but it's likely you'll feel the difference in your tooth first. It doesn't take long for an infected tooth to start causing you pain.
How Does It Work?
First, your dentist will give you a local anesthetic (freezing) and place a rubber dam around the affected tooth. This will help protect your tooth from bacteria during the procedure.
Your dentist will make sure you can't feel anything before starting the procedure. When it's time to start the procedure, your dentist will make an opening in the tooth to reach the pulp.
They'll gently remove the pulp and clean the affected area. After, your dentist will fill and seal the canal. This can be done with a temporary or permanent filling.
If you receive a temporary filling, you'll return to your dentist or prosthodontist for a full tooth restoration (crown). The goal of every root canal is to make the restored tooth look, feel, and work like a natural tooth.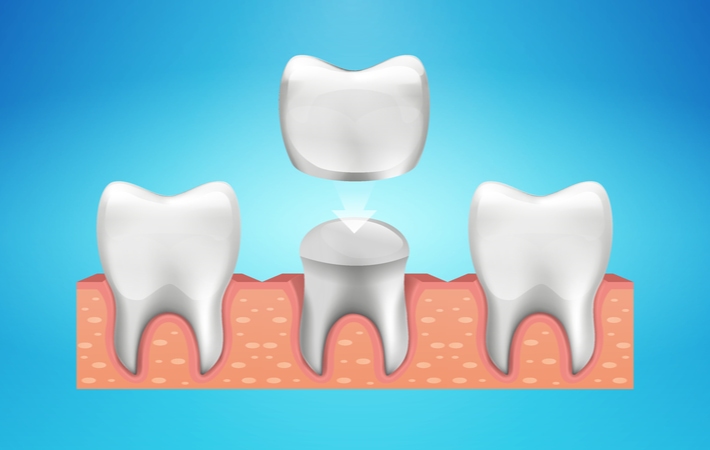 What Is a Dental Crown?
A dental crown is a hollow, artificial tooth used to cover a damaged or decayed tooth. Crowns can be used to restore a tooth's shape, appearance, and function.
Also called "caps," crowns are often used after root canals. Crowns can be placed by your dentist or a prosthodontist.
How Does It Work?
When placing a crown, your dentist will apply a local anesthetic first. They may need to file your natural tooth to make room for the crown.
Once the natural tooth is ready, your dentist will take an impression of your natural tooth to custom-fit your crown. You'll likely need a temporary crown until your permanent crown is ready.
When you come in to have the permanent crown placed, it should match the shape, colour, and bite of your existing teeth. Your dentist will check this before cementing the crown into place. Once your crown is in, your dentist will review post-care instructions with you.
Types of Crowns
There are different types of crowns available. The material used for your crown can depend on your preference, mouth, and other factors, like allergies to any materials. Most crowns last around 10 years with proper care.
Metal Crowns
Metal crowns are usually made of gold. These crowns last a long time and shouldn't ever chip or break, but they won't match your natural teeth.
Porcelain Crowns
Porcelain crowns look and feel the most natural. These crowns are more brittle than metal and may chip if not properly cared for. Porcelain-metal combination crowns may hold up better over time.
Do I Have to Get a Crown After a Root Canal?
The most common restoration following a root canal is a crown. Crowns help protect the integrity of your tooth while achieving the look, feel, and function of a real tooth.
However, a crown is not always a necessity. You could potentially opt for a simple filling. This depends on the location of the decayed tooth, the severity of the damage, and any other factors, like allergies.
Your dentist will make a recommendation based on all these factors. Usually, a crown is the preferred, longest-lasting option.
What Should I Do?
Thanks to modern technology root canals aren't scary. But you will need a crown or filling to protect your tooth (and keep that beautiful smile full and glowing)! If experience any pain or sensitivity in your teeth, come see us as soon as possible! Our team at Ti Dental is here to answer any questions you may have and provide the right guidance for your oral health.