For most of us, one of the earliest lessons we are taught in life is the importance of brushing our teeth. Whether it was our parents, teachers, or coaches, the lesson was the same: if you don't brush your teeth 2 times a day, they're going to rot and fall out. The warnings about having bad breath if we didn't floss daily were scary as well.
We received similar messaging from our dentists, who told us the best oral care is preventive care. We have heard repeatedly how regular visits to the dentist and a good oral hygiene routine contribute to the prevention of decay and gum disease.
This has all proven to be very true.
In fact, we should brush our teeth after every meal—ideally—because bacteria begin to attack within minutes of eating. Also, there are other issues related to poor oral hygiene care—many of which are more uncomfortable than we expect, that could require emergency dental care. Let's take a look at what really happens if you don't brush your teeth.
Dental Issues Resulting From Poor Oral Hygiene
It's safe to say our parents, teachers, and coaches gave us the quickest explanation about the consequences of poor oral hygiene. Growing up, having bad breath was one of the more embarrassing dental issues related to not regularly brushing our teeth. However, the truth is, bad breath is likely the least of our worries. Here are 4 major dental issues that result from poor oral hygiene.
1. Gum Disease
Gum disease is caused by a combination of the bacteria in our plaque and our own immune system trying to fight the bacteria. It manifests as inflammation of the gums, bones, and tissues that surround and support teeth. Gingivitis is the earliest sign of gum disease, and its symptoms include sensitive gums, bleeding and bad breath.
2. Periodontitis & Oral Cancer
Although these are 2 separate issues their primary cause is the same…poor oral hygiene. Periodontitis is a disease that affects the bone and gums supporting your teeth. It can ultimately lead to your teeth needing to be removed. Unfortunately, people with poor oral hygiene are also at a higher risk of developing oral cancer.
3. Tooth Decay (Cavities)
The bacteria in plaque and the sugar in foods create an acid which may break down the protective layer on your teeth, called enamel. If it isn't removed through regular brushing, plaque can also contribute to infections in the gums. Tooth decay can cause pain, it may lead to broken teeth and it can make it more challenging to maintain good oral health.
Poor oral hygiene will certainly affect more than just your mouth. Your general health and well-being are at risk if you don't keep up with your oral hygiene. Diabetes, respiratory illness, and cardiovascular disease are all linked to gum disease and having poor oral hygiene.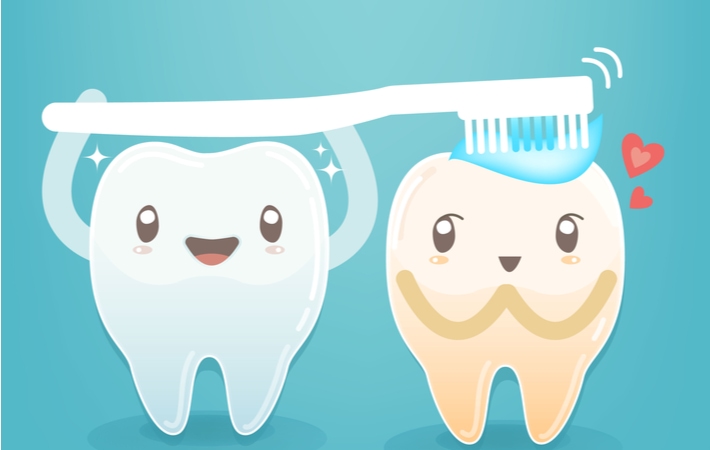 The Best Oral Care Is Preventive Care
Dentists have been telling us the truth all along! The best kind of oral care is preventive care.
It's paramount that we remain vigilant with our daily oral hygiene routine. Brushing once a day just isn't going to cut it. Ideally, we should brush after every meal; however, even if we can't, aiming for that goal will keep us brushing more often than we would otherwise.
Flossing is another vastly overlooked practice for keeping our teeth as healthy as possible. The Canadian Dental Association (CDA) recommends we floss daily because if we don't, we'd be missing more than one-third of our tooth's surface.
One-third of our tooth's surface? Yep! That's right because flossing reaches and removes plaque and bacteria from places your toothbrush can't reach.
In order to stay ahead of your oral hygiene, you should know how to detect early signs of dental issues. Here are a few telltale signs of early dental issues:
Persistent bad breath
Persistent bleeding in the gum tissues
Loose teeth
Sore mouth and gums
Contact us to discuss your dental concerns or book an appointment to ensure your oral health is in optimal shape. Our experienced dentists await your call!