Have you ever clenched your teeth in a stressful moment? It might have felt a bit sore afterwards, but occasional teeth grinding shouldn't result in long-term damage. When teeth grinding is happening regularly it can lead to problems.
Teeth grinding can wear down your enamel and have serious side effects on your jaw. Chronic teeth grinding, also known as bruxism, is a condition that deserves an examination with your dentist.
What can you do to reduce the potential for tooth damage with this behaviour? Let's discuss some strategies you can use at home and treatments that can be offered by your dentist. Being aware of bruxism and maintaining your oral health requires regular dental exams.
What is Teeth Grinding?
Teeth grinding is the behaviour of habitually gnashing, clenching, or grinding your teeth. Also called bruxism, this condition can lead to physical pain and tooth damage. A significant portion of the population suffers from the effects of bruxism. It can affect people of all ages but is most common in 25-44-year-olds.
Bruxism may have detrimental effects on your teeth and jaw when left untreated. It can lead to worn teeth, damaged enamel, jaw disorders, and headaches.
Types of Bruxism
Teeth grinding is separated into 2 distinct categories.
Awake bruxism describes teeth grinding during the day. This type of teeth grinding is more associated with psychological issues and can be treated as such. It can also be experienced by people exerting themselves physically, including certain types of jobs and exercise.
Teeth grinding during sleep is known as sleep bruxism. This form can be more insidious as you may be unaware of the condition for long periods. You use more than 250 pounds of force when clenching at night, which can damage teeth, jaws, and joints.
As part of a dental exam and cleaning, your dentist can look for signs of bruxism, even if you are unaware of its occurrence.
Symptoms of Teeth Grinding
The symptoms of bruxism are wide-ranging and can vary in degree depending on the severity of your condition. Some of the physical symptoms of teeth grinding include:
Headaches
Facial muscle pain
Earaches
Tightness of shoulders
Restricted mouth movement
Sleep disruption
Temporomandibular joint discomfort
Teeth grinding shows symptoms specific to your oral health as well. These include:
Teeth fractures
Abnormal tooth wear
Gum recession & inflammation
Loose teeth
Premature loss of teeth
Why Do People Grind?
The many causes of teeth grinding are not yet totally understood. Habitual grinding can be influenced by psychological factors, lifestyle decisions, and underlying health conditions. A consultation with your dentist is an important first step in trying to pinpoint the reason for your teeth grinding.
The following factors have been associated with bruxism:
Stress, anxiety, & nervousness
Sleep disorders, including obstructive sleep apnea
Consuming psychoactive substances such as caffeine, alcohol, tobacco, cocaine, sleep medication, and antidepressants.
Children's Bruxism
Children also grind their teeth. But the root causes vary somewhat from adult bruxism. Children may outgrow bruxism as they age and as their jaws and teeth grow.
Teeth grinding by children may be caused by:
Misaligned teeth
Mouth irritation
Heredity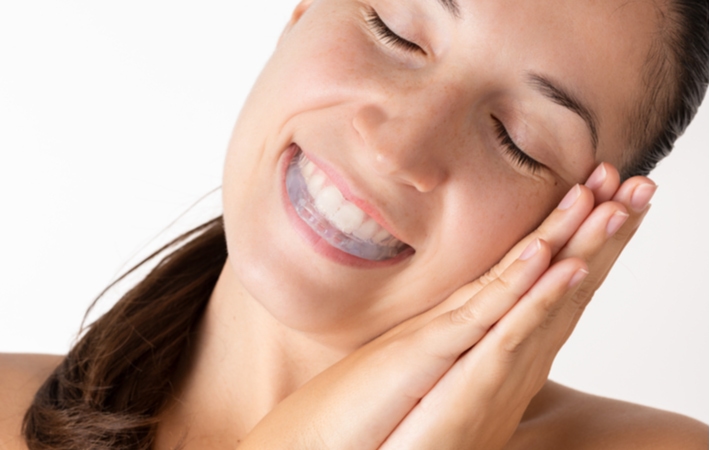 Treatments for Bruxism
Depending on the reason you grind your teeth, your dentist can recommend different treatments to prevent tooth damage. What's important is getting a comprehensive dental exam once you're aware that you're grinding your teeth consistently.
These remedies may reduce your bruxism and eliminate some of the uncomfortable symptoms.
Dental Night Guards
After an examination, your dentist may suggest an acrylic splint or night guard appliance. Night guards protect your teeth from the damage that sleep grinding may cause. These devices will not stop your nightly habit if you have sleep bruxism, but they will prevent your enamel from being damaged.
Although over-the-counter mouthguards are available, custom-fitted night guards are more comfortable and offer better protection. During your next dental visit, we can measure your mouth and bite. We'll then provide you with a custom-fit night guard to protect your smile.
You may hear bruxism night guards referred to as occlusal bite guard, bruxism appliance, bite plate, or splint.
Reduce Your Stress Levels
We know this is easier said than done! But stress and anxiety are primary contributors to awake bruxism. For some, improved mental health can lessen your teeth grinding.
Behavioural approaches are not for everyone but have shown positive effects with some patients. The goal is to become conscious of your teeth grinding when it happens and to take active steps to prevent the habit. Some of the stress-reduction techniques associated with bruxism management include:
Autosuggestion
Progressive relaxation
Yoga
Meditation
Exercise
Talk therapy
Self-monitoring
Habit reversal/retaining therapy
Tongue & Jaw Exercises
Employing tongue and jaw exercises in your daily routine can strengthen these muscles and also relax your mouth. Your dentist can recommend a variety of techniques to use, depending on your specific grinding habits. Try these exercises at home to relax the jaw and possibly reduce clenching.
Open your mouth wide while touching your tongue to your front teeth. This helps relax the jaw.
Say the letter "N" out loud. This will keep your top and bottom teeth from touching and help you avoid clenching.
Treat the Grind
Some people can control clenching and grinding their teeth. But for others, bruxism requires help from a professional. Being aware of psychological factors that can lead to grinding is important. Employ stress-relief methods into your daily routine.
Sleep bruxism may require more involved treatment. Nightguards and certain dental procedures can help reduce the negative impact that grinding and clenching has on your jaw, facial muscles, and teeth. Our dentists at Ti Dental are well-versed in identifying and treating all types of bruxism.
If your jaw feels sore after a long night's rest or you catch yourself clenching your teeth throughout the day, it's time to see the dentist. We'll take the time to understand your lifestyle and target the underlying cause of your tooth grinding. Give us a call to re-discover a jaw that feels relaxed and relieved.