Tooth infections can cause severe discomfort and pain, and should not be left untreated for an extended period. Tooth infections are sometimes called abscessed teeth, and if treatment is delayed, can lead to complications and severe health issues.
A tooth infection may result when bacteria enters the tooth through a cavity or tooth damage. You may notice:
Pain
Inflammation
Swelling
Pus in the gums (an abscess)
At Ti Dental, we recommend our patients receive dental treatment immediately at the first sign of infection or pain. Do not delay treatment if you suspect a tooth infection; book an appointment with your dentist right away.
How Do I Know If I Have a Tooth Infection?
A tooth infection can happen in different areas surrounding the tooth, and may affect multiple teeth or the jaw. The following conditions can exacerbate the development of a tooth infection or abscessed tooth by creating favourable conditions for bacteria to develop:
Broken or chipped teeth
Cracked teeth
Tooth decay
Gum disease
Injuries to the mouth
The following symptoms could indicate the development of tooth infection:
Severe, persistent, and throbbing toothache that may radiate through the jawbone, cheek, neck, or ear
Red and swollen gums
Sensitivity to hot or cold temperatures
Sensitivity when chewing or biting
A loosening tooth
Fever
Swelling in the face or cheek
Swollen and sore lymph nodes beneath the jaw or in the neck
Difficulty breathing
Difficulty swallowing
Foul taste in the mouth
Bad breath
A painful bump on the gum
How Long Can I Wait Before Seeking Treatment?
Postponing treatment of your tooth infection carries a risk of the infection spreading to other areas of your mouth and body. In some cases, the bacteria from a tooth infection can become life-threatening if it manages to enter your bloodstream, brain or heart.
An untreated tooth infection may lead to the following medical problems:
Tooth loss: When the tooth becomes infected, it may become severely decayed, broken or loose and could require removal.
Bone infections: If bacteria from a tooth infection spread to the surrounding bones, it can cause damage to the jaw bone.
Sinus infections: The teeth and sinuses live very close together in the body, and an untreated tooth infection can spread into the sinuses.
Septicemia: The bacteria from an unmanaged tooth can travel into the bloodstream, effectively poisoning the blood. If this condition is a medical emergency, and left untreated, it can lead to a life-threatening condition called sepsis.
Ludwig's angina: This is a rare, but severe bacterial infection that presents under the tongue that can result from an untreated tooth infection. This condition is a life-threatening medical emergency.
Meningitis: Meningitis can occur if the bacteria from an untreated tooth infection reaches the brain. Meningitis is a dangerous brain and spinal cord infection that can develop into a life-threatening medical emergency.
At Ti Dental, we recommend contacting a medical professional immediately if you notice any symptoms of a tooth infection. And remember, regular visits with your dentist and good oral hygiene can help prevent infections from developing.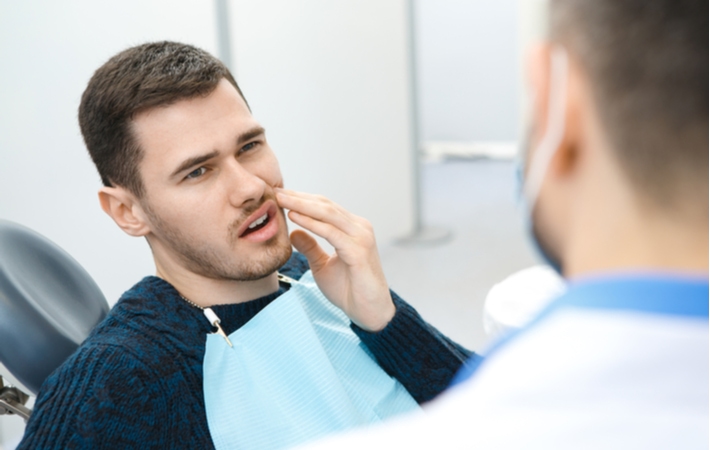 What Treatments Are Available for My Tooth Infection?
Great news! Your dentist can treat your tooth infection, thanks to significant improvements in modern dentistry, antibiotics, and oral hygiene. The most important step is contacting your dentist immediately at the first signs of a tooth infection.
Treatments may vary, depending on the severity and site of the infection, but can include:
Antibiotics: Antibiotics work in conjunction with other dental infection treatments, and can be prescribed to rid your body of any remaining bacteria after your dental procedure.
Incision with drainage: Your dentist can drain a small abscess to eliminate the tooth infection.
Root canals: A severely infected tooth may require a root canal.
Extraction: If an infection has destroyed the tooth's integrity, your dentist may remove it to clear the remaining infection from the surrounding gum tissue.
Postponing treatment can result in severe outcomes. If you are experiencing the symptoms of a tooth infection, contact your dentist right away.
An Ounce of Prevention
The following preventative measures can help reduce your risk of a tooth infection:
Good dental hygiene: Brush and floss at least twice daily to help prevent infections.
Regular dental check-ups: Follow your dentist's recommendations for your dental exam schedule.
Regular dental cleanings: Your dental hygienist can help ensure teeth and gums remain in tiptop shape.
Pay attention to your teeth: Contact your dentist if you notice chipped, broken, or loose teeth.
Watch for symptoms: Contact your dental team right away if you notice any signs of a tooth infection.
Stay on Top of Your Dental Health
If you suspect a tooth infection, contact your dentist right away for evaluation and treatment. Postponing treatment can result in the spreading of bacteria in your mouth and body, and could result in severe, life-threatening health complications.
For additional questions about oral health or to book an appointment, contact our friendly team at Ti Dental. We're passionate about your dental health, and want to make sure you have high-quality treatment available, when you need it most.