Missing teeth can affect more than your confidence; they can alter your jaw's function and form. If you have missing teeth, your dentist may recommend dental implants as an option, but how long do these implants last?
Continue reading to learn more about dental implants.
What Are Dental Implants?
A dental implant is an artificial root made of titanium metal. It's placed in the open space that used to be occupied by a natural tooth. The purpose of a dental implant is to function like the root of a natural tooth. A crown is placed on top of the dental implant, resulting in an appearance and function similar to a natural tooth.
Who Can Get Dental Implants?
From a health perspective, you're generally eligible for a dental implant if you're healthy enough to handle a routine dental extraction. Your dentist will assess the health of your gums, bone and supportive structures to ensure that the dental implant will be successfully held in place.
Speaking with your dentist can help determine if dental implants are a good option for you.
Some factors can affect your eligibility for a dental implant, including:
Heavy smoking
Diabetes
Heart disease
Radiation therapy on the head or neck
Dental Implant Risks
Like any medical procedure, there are risks involved with dental implants. Problems are rare, but your dentist can explain these risks in further detail.
Infection
Injury or damage to teeth
Nerve damage
Sinus problems
How Successful Are Dental Implants?
While success rates can vary, dental implants are a very effective procedure with excellent long term success. This dental procedure has a success rate of up to 98%. If your dentist believes dental implants can benefit you, how does this process work?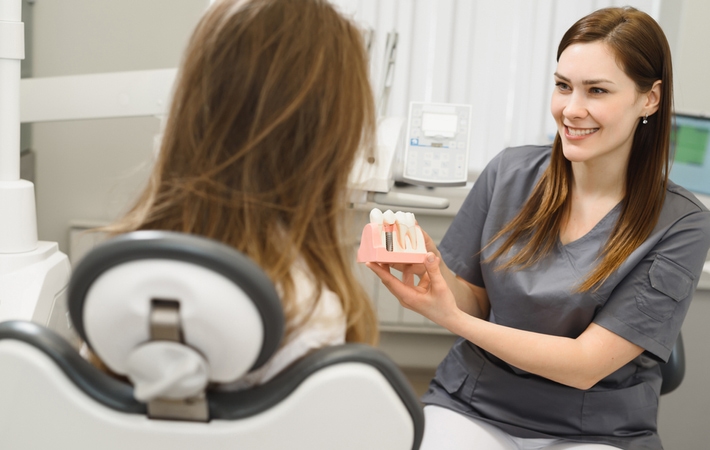 What is the Dental Implant Process?
The dental implant process begins with a consultation with your dentist, followed by a procedure to place the dental implant, and the placement of the dental crown four to six months later.
The dental implant process involves:
Consultation
Your procedure begins with a consultation. Your dentist will discuss your dental needs and how a dental implant could benefit you.
An examination of your jaw with a 3D x-ray will help to determine if you have enough bone to support dental implants. If you do not have enough bone, you may require bone grafting in addition to the dental implant.
After answering your questions and determining your eligibility, your dentist will schedule the first step in your dental surgery.
Placing the Dental Implant
The first stage of this procedure involves placing a dental implant into your jawbone underneath the gum tissue.
Your jawbone will bond with the implant as you heal, eventually attaching to your gums. The healing process can take several months to complete. This implant will protrude slightly from your gums and act as the base for your future dental crown.
Placing the Dental Crown
The second stage of this surgery is the placement of an abutment on your implant. This abutment is a post that connects your dental crown to your dental implant.
Your dental crown attaches to your dental implant, providing you with a completed structure. This attachment may be an individual crown, a bridge or a denture if you require multiple artificial teeth.
Your dentist will provide detailed aftercare instructions to follow as your mouth heals from the procedure. You are likely wondering how long will your implant last?
How Long Do Dental Implants Last?
Dental implants connect directly with your jawbone, which contributes to their long life span. The longevity of a dental implant depends largely on the overall health of the patient and how the implant is cared for.
The dental crown may require replacement at some point due to wear and tear. Approximately 50 to 80% of crowns need a replacement between 15 to 20 years.
Caring For Your Dental Implant
While your implant is likely to last a long time, you can help maintain it in a few different ways.
Consider the following tips:
Practice Good Oral Hygiene
Treat your dental implant like your natural teeth. Bacteria can still gather on your artificial crown, so be sure to effectively remove plaque from the surfaces of your dental implants, crowns and natural teeth.
Visit Your Dentist Regularly
Schedule regular dental appointments to have your teeth reviewed by your dentist and dental hygienist. It's important to evaluate the health of your teeth and the condition of your dental crowns and dental implants.
Avoid Potential Damage
Dental implants are strong and durable, but they can still be damaged. Avoid chewing on harder items, like ice and hard candy. If you're interested in dental implants, contact your dentist for an appointment.