If you've ever needed a dental crown, you may be familiar with the process involved—several sessions with a dentist, the installation of a temporary crown, and a waiting period while the permanent crown is made.
Fortunately, these inconveniences can be avoided with the use of CEREC crowns.
CEREC crowns are designed using a specific computer system that allows a dentist to fit, design, and install a crown in a single session.
This convenience offers a significant advantage over traditional crowns. The streamlined process avoids many of the inconveniences you may experience with a traditional crown installation.
What Is a CEREC Crown?
A CEREC crown, short for Chairside Economical Restoration of Esthetic Ceramics, is a dental crown designed, made, and placed by the CEREC system. Usually, a dental crown is a tooth-shaped cap placed over a damaged or decaying tooth that helps restore its original function and look.
This type of crown offers an advantage over the usual procedure by streamlining the process. The dentist is able to use this system to scan your teeth, make a digital impression, and then design the crown. The design is then sent to a nearby machine that can then create the crown.
Your dentist is then able to customize the shade of the crown to match your existing teeth. Once the CEREC crown has been properly made, it can be bonded to your damaged or decaying tooth, giving you a permanent replacement to replace the original.
This convenient process saves a significant amount of time, as it's all performed in a single session. By eliminating the need for several visits and the recovery time involved with traditional crowns, CEREC crowns offer an efficient and time-saving alternative to restorative dentistry.
The Benefits of CEREC Crowns
CEREC crowns offer many advantages over traditional crowns. Primarily, their largest benefit is the amount of time saved since they're created on-site in a single session. They also:
Offer immediate results in a single session. The process allows you to walk in with a damaged or decayed tooth and leave with a permanent restoration.
Are extremely accurate, as they're computer-generated, allowing them to be created precisely to match your unique situation.
Are made from high-quality materials so they can last longer while remaining functional and esthetically pleasing.
These benefits make CEREC crowns popular for people looking to replace a damaged tooth.
How Are CEREC Crowns Different from Regular Crowns?
When a traditional dental crown is going to be installed, there are steps spread across several sessions.
Traditional Crowns
First, the dentist can assess your teeth and overall oral health to examine the area that may need replacement. If a crown is necessary, they'll remove any damaged or affected areas to prepare space for the future crown. This can be done while under local anesthetic. Depending on the severity of the damage, they may need to install a post or core filling to provide a foundation for the crown.
Then, they'll take an impression of the tooth and the surrounding area. This gives them the information needed to create a mould for the crown. At this point, they may place a temporary crown over the tooth to protect it while the permanent crown is being made by a technician.
Once the permanent crown is made, you return for the final installation. They can make any needed adjustments to provide you with a comfortable and proper fit and then use dental cement to permanently bond the crown to the tooth.
CEREC Crowns
CEREC crowns streamline the crown process to make it much more convenient. Due to the entire process being performed during a single session, a CEREC crown installation takes a short period of time to provide permanent results.
There's also no need for impressions to be made through trays as the process is performed by a computer. This, combined with the high-quality materials used, results in a convenient process that offers a permanent solution to damaged teeth.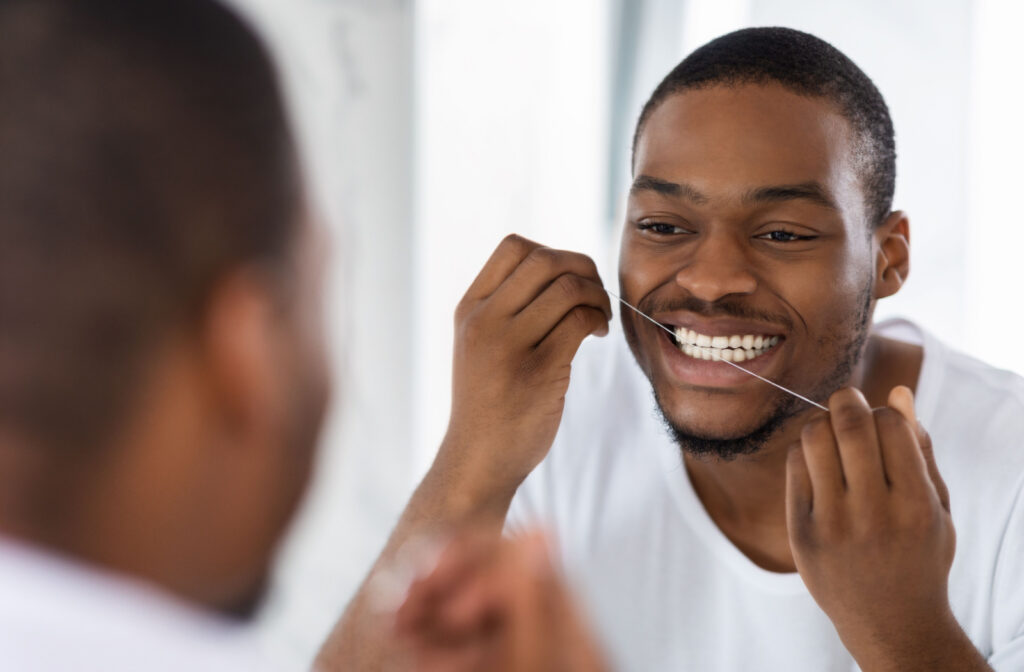 How to Care for CEREC Crowns
Proper care and maintenance are essential for maintaining a CEREC crown—just like your regular teeth. Fortunately, caring for them is the same as caring for your natural teeth. It's recommended to:
Brush your teeth 2 times a day for 2 minutes at a time
Floss daily, taking care to pay attention to the area where the crown meets your gums
Use anti-bacterial mouthwash to avoid the buildup of bacteria in the mouth
It's also beneficial to regularly visit the dentist for checkups and cleanings so they can monitor your oral health. They can also check the condition of your crowns and address any potential conditions so you can keep your teeth healthy and strong.
Dental Care in Calgary
If you're considering a CEREC crown as a replacement for a damaged tooth, your first step should be to visit a dentist. By seeking their experience and advice, you can get a proper consultation about whether a CEREC crown is suitable for your situation.
At Ti Dental, we know how frustrating a damaged tooth can be. Our experienced team is here to help answer your questions about crowns. To speak with one of our staff today, schedule an appointment to get the care you deserve for your damaged tooth.