While perfectly white teeth don't naturally develop, many people want to put their best smile forward. Teeth whitening can help reduce stains and improve the whiteness of your smile. You can brighten your teeth in several ways with help from your dentist.
Before investing in professional teeth whitening, you may wonder how long this treatment lasts.
Expect a Lasting Bright Smile
How long teeth whitening results last depends on the type you receive. At-home treatments can improve tooth colour for a few months, while professional whitening may last several years.
When you whiten your teeth, you're treating present stains rather than protecting against future stains. The aftercare of teeth whitening is vital because you must prevent or reduce the chances of future stains from food, drinks, and other causes.
There are several ways to whiten your teeth today, whether at your dentist or home, including:
Whitening toothpaste
Whitening mouthwash
Whitening pens
Whitening gel trays
Whitening strips
In-office bleaching
While you can whiten your teeth at home, visiting your dentist can be a more effective way to brighten your smile. At-home teeth whitening options are weaker for safety reasons, while teeth whitening products at your dentist's office are stronger, leading to faster results.
How Does Teeth Whitening Work?
It's important to note that teeth are typically a yellow to light grey colour naturally, which can develop over time from food, drinks, smoking, or other factors, like an injury. Your tooth colour can become darker with time if stains settle from beverages like coffee and tea. If this happens, you may look into teeth whitening to brighten your smile.
Professional teeth whitening involves using a specialized solution to change the colour of your teeth, lightening them by several shades. Depending on your dentist's preferred method, there are different ways to brighten your smile, from wearing a mouth trays to brushing the teeth.
It's important to know that the types of stains you have can influence the effectiveness of teeth whitening. Discolouration inside the tooth can be more difficult to treat than surface-level stains.
Types of staining include:
Extrinsic: Extrinsic stains affect the tooth's surface, typically caused by food, drinks, and smoking.
Age-related: Age-related stains develop with time as your tooth enamel becomes more translucent, causing a yellow appearance.
Intrinsic: Intrinsic stains occur deeper in the tooth past the enamel, developing due to tooth decay, medications, or injury.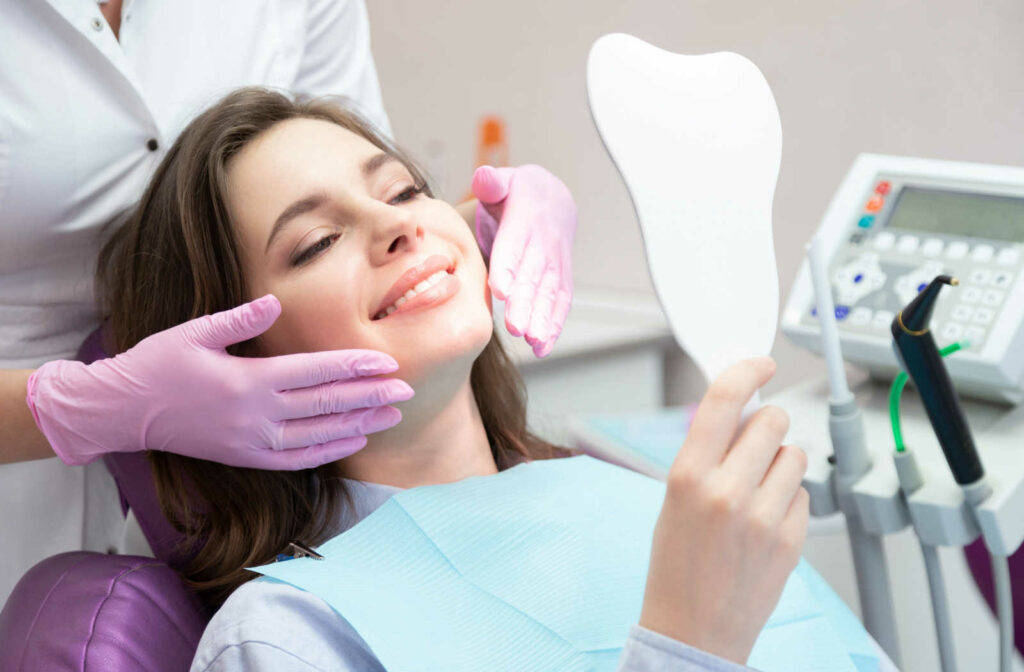 What Can You Expect During Treatment?
Your dentist must determine if teeth whitening is right for your needs before they proceed with treatment. During your appointment, your dentist applies a peroxide mixture to your teeth which takes around 60 minutes to complete.
There are several ways your dentist can apply the whitening mixture:
Whitening trays: Your dentist may apply peroxide to your teeth by having you wear a custom fit tray filled with the mixture.
Heat or light whitening: Your dentist applies peroxide to your teeth before activating the solution with heat and light.
Brush whitening: Your dentist can apply the peroxide mixture by brushing it onto your teeth in a paste.
Depending on your desired results, you may need several treatment sessions to brighten your smile.
Keeping Your Teeth White
While teeth whitening can help brighten your smile, it's important to remember your teeth aren't protected against future stains. Unfortunately, teeth whitening isn't permanent, but caring for your teeth can help manage future staining.
Daily brushing and flossing are essential for preventing stains and cavities, and rinsing your mouth after eating or drinking something that can stain your teeth (like your morning coffee or tea) can help protect your newly brightened smile.
Another important aspect of your dental health is booking regular trips to your dentist—they can help clean the hard-to-reach areas of your mouth and recommend ways to care for your teeth and gums.
If you're looking to prevent future staining, consider avoiding or limiting your consumption of the following foods and drinks:
Coffee
Red wine
Dark soda
Tea
Berries and fruit juice
Tomato-based sauces
Soy sauce
Balsamic vinegar
Energy drinks
Sports drinks
Chocolate and other candies
Enjoy a Whiter Smile
Teeth whitening can help brighten your smile by several shades and reduce current stains. Your dentist can help you achieve visible results in as little as one treatment, giving you a brighter smile for several months.
Contact us at Ti Dental if you're interested in teeth whitening treatment.