As a new parent, it can be overwhelming to keep track of all the firsts that come with raising a newborn baby. One of these firsts is the emergence of their first tooth, and it's important to know when to start managing your child's oral care.
You should begin caring for your baby's gums well before their first tooth even appears.
On average, a child's first tooth will come in between 4–12 months, but in order to help their teeth come in easier and remove unwanted bacteria from their mouths, it's recommended to use a damp washcloth or finger brush to rub and clean their gums when they are newborns.
By starting early, you can set your child up for a lifetime of good oral hygiene habits. Remember to schedule their first dental appointment before they turn 1 year old.
At their dental exam, the hygienist and dentist clean your child's teeth and look for potential issues. You can help ready your child for this experience by practicing good oral care ahead of time.
How Important Are Baby Teeth?
Baby teeth are important for several reasons. They help children chew food, speak, and smile. They also hold space in the jaw for permanent teeth to grow in properly.
If baby's teeth are not taken care of, it can lead to crowding when their teeth grow in. Missing baby teeth may leave gaps, causing nearby teeth to shift around. This can keep your child's permanent teeth from coming in correctly, which might mean they'll need braces later on.
Decayed baby teeth may need to be removed by the dentist, which can be uncomfortable and frightening for your child. Prevention is the first step in fighting tooth decay.
Children need regularly cleaned and healthy teeth to speak clearly and chew their food thoroughly, which is the first step in healthy digestion.
Signs Your Baby Is Ready to Help with Brushing
As babies begin to show an interest in what their parents are doing, they may start to reach out for objects such as toothbrushes. This is a good time to introduce them to the concept of tooth brushing and begin to gently guide them in the process.
It is important to start early with good oral hygiene habits, as this can help to establish a healthy routine for their entire lives. By starting early, you can also help prevent tooth decay and other dental problems that can occur later on.
Baby's First Tooth
As soon as teeth begin appearing above the gumline, it's recommended that you make sure to brush your child's teeth every day. Ideally, you can brush your child's teeth after meals and snacks, and before bed.
Tips for Successful Brushing
When brushing your child's teeth, it's important to take your time and cover all areas of their mouth. Begin by wetting their toothbrush and applying a rice-sized amount of fluoride-free toothpaste.
Use gentle circular motions to brush the front, back, and top surfaces of exposed teeth. You can also brush their gums lightly to help prevent gum disease.
When you're finished, try to get your child to spit out the toothpaste and then rinse their mouth with water. By following these tips, you can brush your child's teeth effectively and promote a healthy mouth.
Choosing the Right Toothpaste & Toothbrush
Safety should be your top priority when choosing a toothbrush and toothpaste for your baby. It's important to select a toothbrush that is suitable for your baby's age and size so it is easy and safe for them to use.
Additionally, it's best to avoid toothpaste with fluoride until your baby is old enough to spit it out, as ingesting fluoride isn't recommended.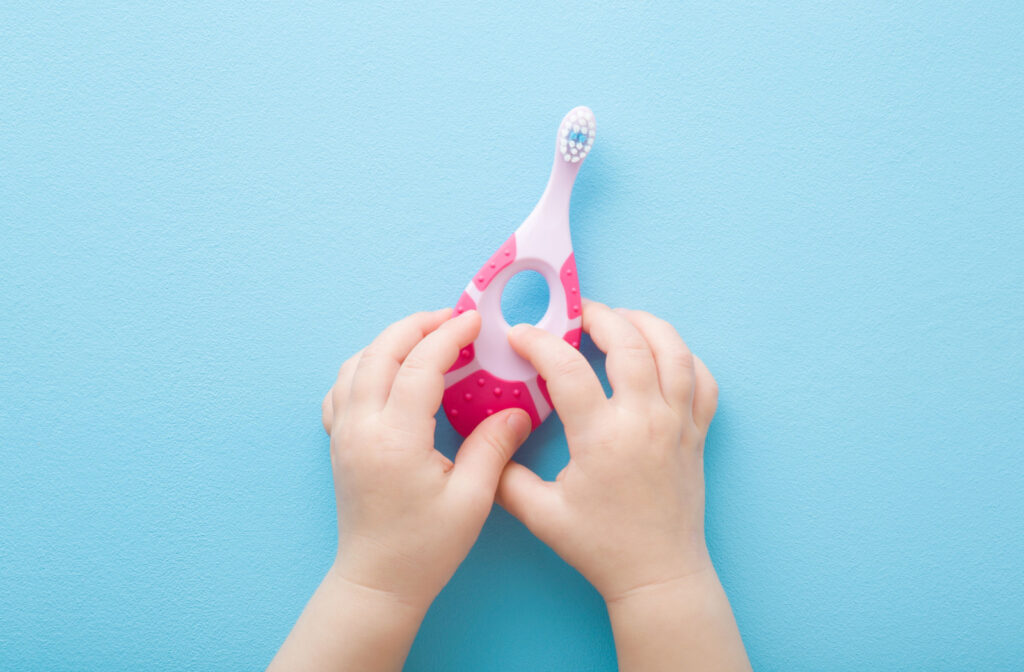 Establishing a Dental Care Routine
To establish a successful dental care routine, it is important to create healthy habits that are both fun and regular. One way to do this is by making toothbrushing an enjoyable activity.
You can try singing a song or playing a game while brushing to make it more engaging for your baby. This can help them associate toothbrushing with positive experiences and encourage them to continue this healthy practice.
It is recommended that children have their first dental visit by their first birthday or when their first tooth appears. Regular dental checkups can help identify dental issues early on.
Your Baby's Next Dental Care Steps
At Ti Dental in Chinook Centre, we are ready for your child's first dental exam, and we're here to help you maintain their oral health. Contact us to request an appointment today.