Breaking or cracking a tooth can be a scary experience. Not only due to the physical trauma but also because it often happens unexpectedly.
Although a frightening experience, a broken tooth can be saved much of the time. Swiftness is of the essence, as the risk of infection rises the longer the tooth stays out of your mouth. Breaking a tooth is a dental emergency. If you break or crack a tooth, call us right away. Our team at Ti Dental is prepared to give you the dental care you need in an unnerving situation. We'll do our best to save your tooth so you can smile with confidence.
Why Did My Tooth Break?
Breaking a tooth usually involves considerable trauma, since our teeth are quite hard. But it can also happen very suddenly. The most common causes of a broken tooth are:
Direct physical trauma, like those caused by an accident
Biting something unexpectedly hard, like a piece of bone in meat
Cavities, which wear your teeth down as time passes
Grinding your teeth, which also wears or cracks your teeth through the years
A broken tooth can be avoidable. The chances you might chip or break a tooth drop considerably with proper dental hygiene and professional dental care. Don't take your teeth for granted! Take good care of your mouth and visit a dentist regularly.
Signs of a Broken Tooth
Sometimes it can be harder than expected to spot a cracked or chipped tooth. A cracked tooth sounds jarring and seems like something you'd spot right away, but that's not necessarily true. A fractured tooth may have no visible signs and may not cause constant pain in the early stages. The following symptoms may indicate that you have a fractured tooth:
Intermittent pain while chewing
Sudden pain while eating
Extreme sensitivity to hot or cold foods
Infection in the gum at the bottom of the tooth
What Should I Do If a Tooth Breaks?
If any of your teeth break, act quickly and contact a dentist immediately. The longer a broken tooth stays exposed, the higher the odds of bacteria and food residue causing more damage to the area, which can lead to an infection. If a tooth breaks or is knocked out, pick it up by the chewing surface end and store it in a container of milk or your saliva. Then immediately head to your dentist.
When you are unsure about whether you have a cracked tooth, the safest choice is to consult a dental professional. The sooner a compromised tooth is assessed by a dentist, the better the chances of repairing or saving your teeth and gums.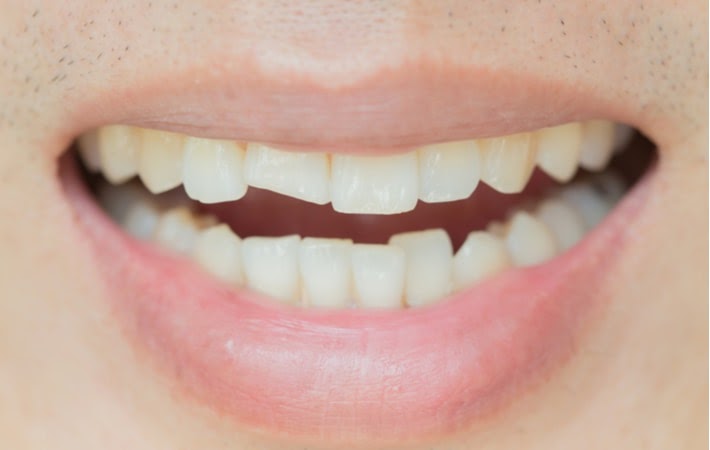 How to Restore a Broken Tooth
Treating a cracked tooth depends on the location and size of the crack. A small crack can be fixed just with the use of dental filling. More sizable cracks may require more extensive care.
Fillings
Dental fillings are typically used to fill the hole in your tooth left by a cavity. The filling prevents food residue from finding its way into your tooth and also helps to prevent your tooth from decaying further. Fillings can also be used to repair cracks in your tooth. It's a fairly straightforward solution that may be enough for a simple crack.
Artificial Crown
If your tooth is severely damaged but it's root is still intact and there are no signs of infection, a dental crown may be recommended. The crown forms a cap surrounding your tooth, protecting it from damage while restoring its function.
Root Canal
If the tooth breakage results in deep tissue damage or infection, a root canal may be necessary. Root canal treatment removes the damaged tissue from inside the root of your tooth. After removing the damaged tissue, the root is disinfected and filled with a medicated filler. It's a very common and safe procedure.
Don't Let a Broken Tooth Keep You From Cracking a Smile
While breaking a tooth can be a traumatizing experience, the odds are in your favour. Superficial tooth cracks are usually easy to fix. Even more major tooth fractures have a good chance of recovery. The most important step for a successful repair is fast action. The quicker a dentist can review your fracture, the better the chance of saving your tooth. If you suspect you might have fractured a tooth, and especially after a full break, contact us right away. At Ti Dental, we offer dental implants and restorative services and we're ready to do our best to make sure you can keep on smiling.