If you're looking to repair a damaged tooth, your dentist might recommend a dental crown. Dental crowns provide long-term strength and stability for worn-down or chipped teeth and can be made out of a variety of materials. Although crowns have their limitations, they are generally accepted as a long-term dental solution that can last many years.
What is a Dental Crown?
When a tooth becomes damaged or decayed and loses its original shape, a dental crown is required to replace the strength, durability, and functionality of the tooth. This crown acts as a cap that sits over the tooth similar to how a king wears a crown on his head.
The crown simulates the original texture and shape of the tooth and allows for regular chewing. A crown is custom-milled to fit the missing part of the tooth being repaired. The crown is then cemented to what's left of the original tooth, making it a near-permanent solution.
What are Crowns Made Of?
Modern dentistry uses a few different types of materials to form crowns. Types vary by cost and some have limitations depending on patient health and the tooth in question. Several common crown materials include:

Gold and other metals are the most durable materials used to make crowns.
Porcelain and ceramic crowns are a popular choice as the colour can closely resemble a natural shade.
Hybrid or bonded crowns combine both precious metal and porcelain in their construction. Good for increased durability with a more natural look.
Resin composite crowns are made from plastic and tiny glass beads. These crowns have a short lifespan and are mostly used as temporary crowns.
Why Would I Need a Dental Crown?
A dental crown is used to fix a tooth that has extensive surface damage. A crown's purpose is to restore the chewing ability of the damaged tooth and to prevent further damage by strengthening the afflicted area. Crowns can also have a cosmetic purpose for visible teeth.
You may require a dental crown due to:
Tooth decay
Trauma (chipped tooth)
Worn-down enamel
A root canal
A large filling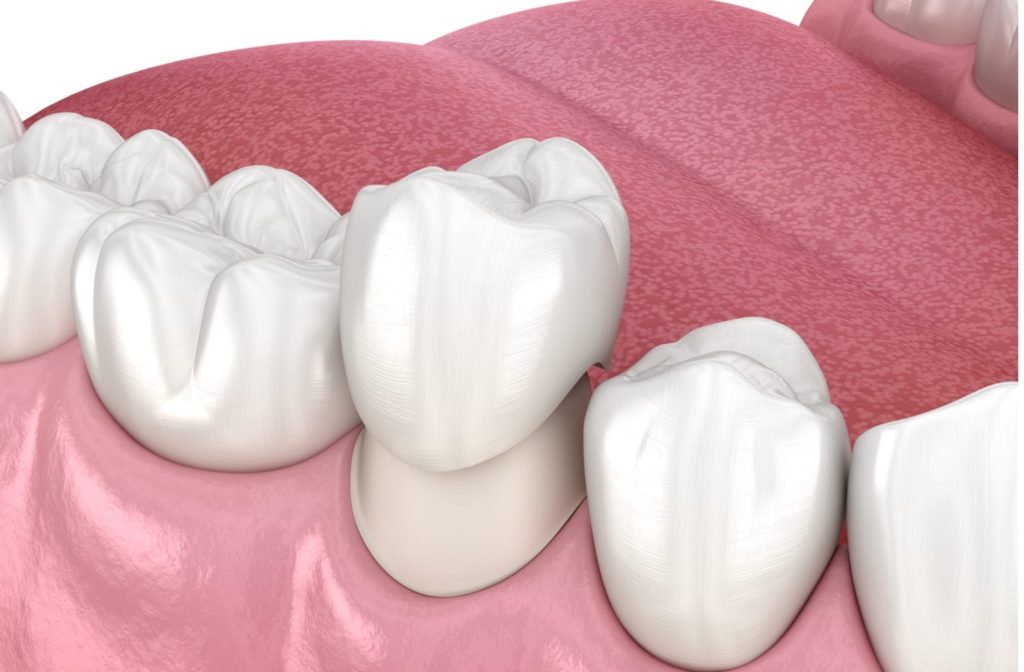 How Long Will My Crown Last?
If you are not getting a same-day crown (when the crown is milled from a ceramic block right at the dentist's office), then you will be fitted with a temporary crown until the permanent version is ready to be placed. Temporary crowns are in place for a couple of weeks and will then be removed by a dentist and exchanged for your permanent crown.
The lifetime of a dental crown depends on your oral habits; including how you take care of your teeth. Most crowns can be expected to last a minimum of 5 years and up to 30 years or more.
Oral Habits Affecting Crown Lifespan
Even though a crown itself cannot decay, proper oral hygiene remains important for protecting the base of the tooth and surrounding area. A crowned tooth is still exposed to decay at the gum line and gum disease.
Crowns are subject to wear and tear, just like your natural teeth. As such, the more pounding or chewing that a crown absorbs the quicker it will need to be repaired or replaced. The following oral habits can lessen the lifespan of a dental crown:
Teeth grinding or excessive clenching
Chewing very hard foods or ice
Biting fingernails
Using teeth to open packages
Reliable, Long-Term Dental Repair
Consult with your dentist for specific information on the dental crown options available for your worn or damaged tooth. Crowns are a long-term solution for returning functionality and strength to a tooth that has been compromised. Some dental crowns will also provide an aesthetic look resembling your natural tooth colour.
So while a dental crown won't last forever, you can expect to get a solid decade of use from a properly bonded repair. Depending on your age and how you care for your teeth, a crown can easily last the rest of your lifetime.