You've probably heard of plaque and tartar, but do you know what they mean for your oral health? It's important to understand plaque and tartar in order to protect your mouth from issues like bad breath, cavities, and gum disease.
The Relationship Between Plaque & Tartar
Plaque is a pale yellow film that develops on your teeth. It's what gives your teeth that fuzzy feeling. 4 to 12 hours after brushing, plaque begins to develop on and in between your teeth. Plaque buildup is one of the main reasons why you should brush your teeth twice a day.
If you don't remove plaque by brushing your teeth, you run the risk of developing tartar. Unlike plaque, tartar cannot be removed with brushing and can cause more serious oral health problems.
What Causes Plaque?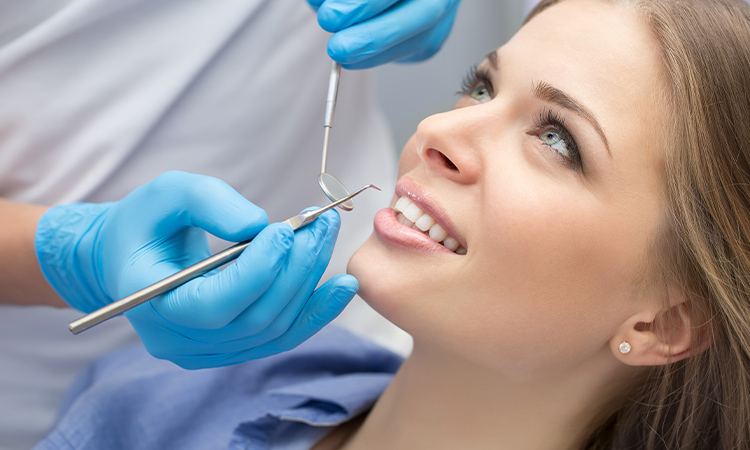 Plaque is caused by trace amounts of food and beverages that are left on your teeth after meals. Essentially, bacteria in your mouth consume the food and create acid as a by-product. Then the acid combines with food particles which causes a sticky and hard substance known as plaque. The acid can also damage your teeth in itself, leading to cavities and gum disease.

How Do You Get Rid of Plaque?
Plaque can't be permanently removed as it's constantly developing every time you eat. That said, plaque can be controlled with good dental hygiene and regular dental exams and cleanings.
Dentists can also apply sealants to protect teeth from plaque and to help prevent cavities. Sealants can be especially helpful on molars, which have more ridges to trap plaque, and for children who may not brush as thoroughly.
Finally, a balanced diet can help get minimize plaque. Reduce snacking between meals to help prevent plaque from forming and eat lots of fruits and veggies. Vegetables will help remove plaque and neutralized acids. Celery and other firm veggies are especially helpful when it comes to removing plaque.
What Causes Tartar?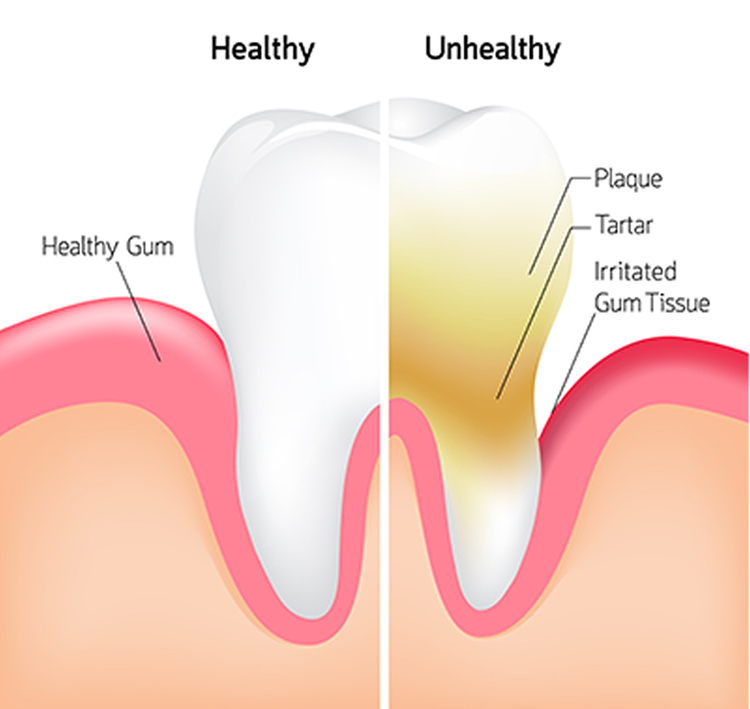 Tartar is plaque that has remained on your teeth long enough to harden. When plaque isn't removed with a toothbrush or floss, it interacts with the minerals in your saliva and mineralizes into tartar.
In addition to being much harder than plaque, tartar is often a more noticeable yellow or brown colour. You're more likely to develop tartar as you age or if you don't brush your teeth regularly.

How Do You Get Rid of Tartar?
Once plaque has hardened into tartar, it can't be removed with a toothbrush. While you might be able to find some at-home methods to remove tartar, it should only be removed by a dentist. Because tartar is so hard, your dentist will need to remove it using a scaling tool.
It's important to visit your dentist if you have tartar. You can damage your teeth and gums by trying to remove it yourself and if it remains on your teeth, tartar can cause various other issues with your teeth and gums.

How Do Plaque & Tartar Harm Your Oral Health?
Plaque can cause bad breath and bleeding gums, but can easily be treated through brushing and flossing twice a day. It's important to remember though, that even before plaque turns to tartar it can cause issues with tooth decay. The acid caused by plaque can eat away at your enamel and eventually lead to cavities. When plaque is left to harden into tartar, it causes even more serious harm to your oral health.
Tartar can contribute to further tooth decay and serious gum disease. Gingivitis is the precursor, but if left untreated it can cause more severe periodontal gum disease. This is when the gum tissue pulls away from the teeth, leaving the bone underneath exposed to bacteria and decay. Once you have tartar, plaque becomes more difficult to remove, causing a cycle of harm to your mouth's health as the excess plaque causes more tartar. The best way to protect your oral health from plaque and tartar is to visit the dentist regularly. At a regular exam and cleaning, your dentist can clean your teeth and remove any initial tartar that is present. It's also an opportunity to catch tartar before it leads to more serious gum disease. If it's been more than 6 months since your last dentist's visit, book your appointment today.