Dental crowns are one of the best ways to repair a damaged tooth so that you can go back to smiling comfortably and chewing without pain. However, crowns can be made from various materials, and each type of crown has different pros and cons.
Below, we'll cover the differences between different kinds of dental crowns so that you can choose the best option for your mouth. We'll also tell you how to maintain your crowns once you have them so that you can avoid a dental emergency.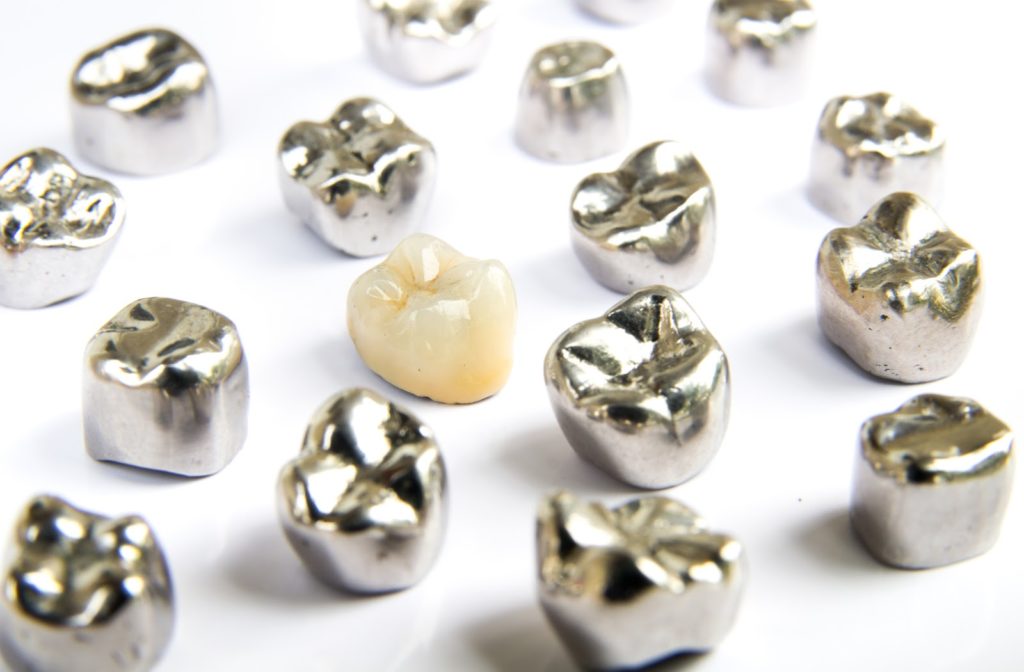 Who Needs Dental Crowns?
There are several reasons why you might find yourself in need of a dental crown. Some of the most common are as follows:
You have experienced significant tooth decay
You need to cover a dental implant
You must replace a sizeable filling
You have a tooth that is cracked or broken
You have had a root canal
Your bite is misaligned
You want to adjust the appearance of one or more teeth so that it more closely matches the others in your mouth
If any of the following situations apply to you, it's best to consult your dentist and ask them what they recommend. They will be able to tell you whether you need dental crowns or a different procedure such as fillings or inlays.
What Are Dental Crowns Normally Made Of?
Gold Crowns
It might surprise you to learn that gold crowns aren't made entirely of real gold — which is far too malleable to withstand years of chewing. In most cases, they're made from combining gold with other metals like copper, nickel or chromium. The resulting alloy is far more durable than pure gold would be.
Dental crowns made with gold alloy offer a lot of strength and longevity, since they wear down about as slowly as the enamel on your natural teeth. However, the obvious drawback is that gold crowns won't blend into your smile. For that reason, many dentists recommend using gold crowns for teeth at the back of the mouth, and other options for the teeth you show while smiling.
Pros: durable, long-lasting, a strong choice for restoring teeth in the back of the mouth
Cons: noticeable when placed in the front of the mouth
Porcelain Fused to Metal Crowns
Some crowns use a ceramic cap to cover the gold structure underneath. Gold and ceramic crowns offer the protection of gold crowns while blending with your other teeth more effectively. However, a small line of gold may still be visible at the bottom of the crown where the ceramic cap ends, so the aesthetic effect isn't quite perfect.
Pros: a good blend of aesthetics and protection
Cons: a small portion of the metal may still be visible up close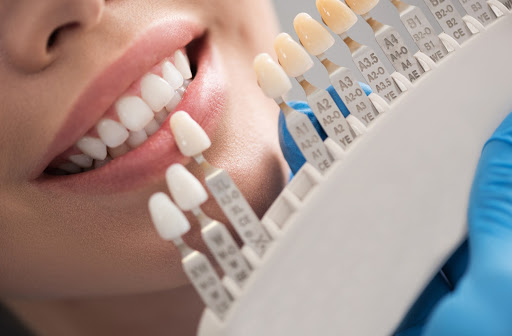 CEREC Crowns
CEREC stands for Chairside Economical Restoration of Esthetic Ceramics. To make CEREC crowns, your dentist will take a digital scan of your tooth and send it to an in-house milling machine, which creates the crown for you during your visit. Then the dentist will bond the crown to your tooth so that you can walk out of your appointment with the finished crown.
The obvious advantage to CEREC crowns is that you get the finished product on the same day as your appointment. Traditional crowns made of gold or other materials are based on impressions that your dentist must send to an off-site lab, which means they can take over a week to prepare. CEREC crowns also resemble regular teeth much more closely than crowns that use precious metals.
Pros: same-day service, close resemblance to natural teeth, less expensive than other crown options.
How Long Do Dental Crowns Last?
Dental crowns made from gold, ceramic, or a combination of both are likely to last for at least 10 years. However, you'll need to take several steps to care for your crowns properly.
Proper Crown Maintenance
To make your dental crowns last as long as possible, follow these simple strategies:
Brush and floss your teeth regularly
Make sure to brush the part of the crown that meets the gum line so that less bacteria can collect there
Do not clench or grind your teeth — use a mouthguard at night if necessary
Schedule regular dental cleanings and check-ups with your dentist
Give Yourself a Reason to Smile, and Choose the Right Crowns for Your Mouth
Your teeth deserve protection, and crowns can help provide it. Use what you've learned here to have an informed conversation with your dentist, so that the two of you can decide on the right type of crown for your needs together.