Brushing and flossing are the most important tools for optimizing your oral health, and they help keep your smile bright. However, the most common question from dental patients is how to whiten their teeth.
Whether you're asking your dentist at your next dentalappointment, or you're looking for an at-home option, there are a few points to keep in mind when it comes to whiter teeth.
What Causes Yellow Teeth?
Our teeth aren't naturally pearly white — it's normal for teeth to be slightly yellow. That said, there are a few conditions that contribute to teeth that may be more yellow than normal:
Certain food and drinks: Food and drinks with intense pigments can stain your teeth. Coffee, black tea, and red wine are common examples.
Smoking: Tobacco use can cause yellow teeth. It contains tar and nicotine, which both stain the tooth's surface.
Age: As we age, the outer surface of the tooth (the enamel) becomes thinner, allowing the more yellow dentin underneath to show through.
Tooth injury: When teeth are injured, the body reacts by creating more dentin. Dentin is yellow in colour, causing teeth to appear more yellow.
Medications: Certain medications like antihistamines, antipsychotics, blood pressure medications, and chemotherapy drugs can darken teeth.
At-Home Whitening Options
We've listed the most common whitening systems below, along with their pros and cons.
It's important to remember that not all teeth will whiten. Talk with your dentist or dental hygienist about whether you might be a candidate for teeth whitening.
Whitening Strips & Gels
Whitening strips and gels are available at most grocery stores, and usually cost between $35-70 depending on the product.
However, these systems are single-use, and achieving your desired level of whitening may require multiple purchases. The concentration of peroxide gel in the whitening strips is lower than a professional whitening system. It typically takes several weeks of nightly use to achieve results.
Pros: most patients find the strips affordable and easy to use.
Cons: multiple kits may be needed over time to achieve the desired results.
Whitening (Stain Removal) Toothpaste
Whitening toothpastes contain an abrasive ingredient which helps to remove surface stains. They are not intended to whiten teeth. These products typically work best in younger patients whose teeth are still naturally quite white.
Pros: cost effective and may work well to remove stains from foods and drinks.
Cons: patients who are prone to sensitive teeth may find their sensitivity increases with prolonged use of an abrasive toothpaste.
Whitening Trays
Whitening trays are typically the most effective method for at-home-teeth whitening. An over the counter system will have less peroxide in the whitening gel, which reduces their effectiveness. Whitening tray systems purchased from your dentist contain more peroxide and tend to provide faster results.
Pros: professional (purchased from your dentist) whitening kits are the most effective method for whitening your teeth at home.
Cons: patients with existing tooth sensitivity may experience heightened sensitivity when whitening. Talk with your dentist about how to prevent this.
Ask your Ti Dental team about our Whitening For Life Whitening tray promotion available to all eligible patients! (Eligibility is based on several criteria to determine effectiveness and safety)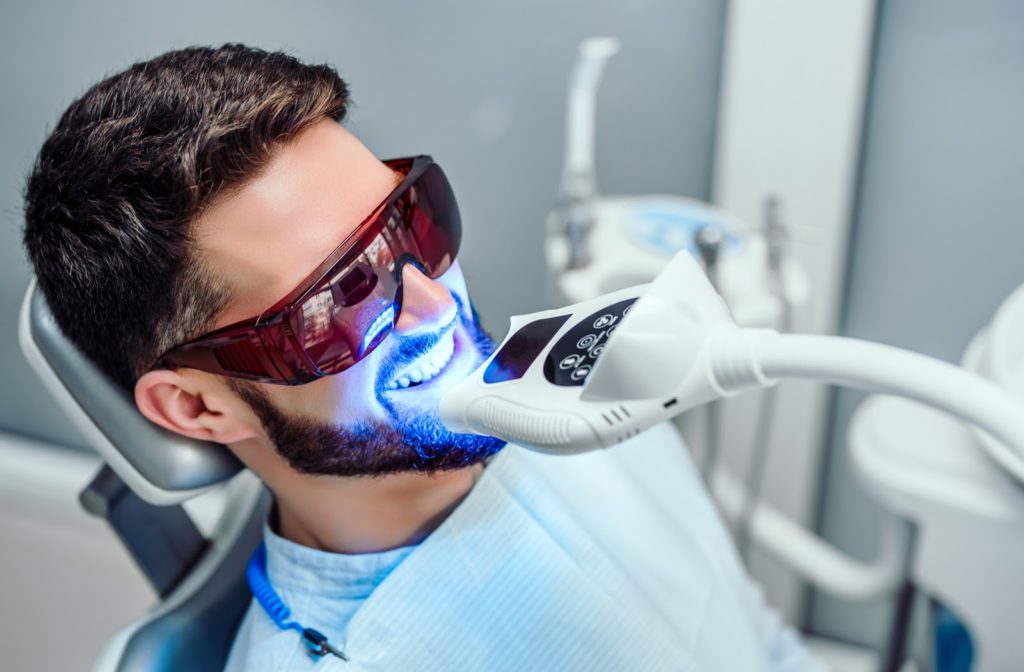 Professional Chairside Whitening with Zoom 2! ™
In-office, light-accelerated whitening offers several advantages compared to over-the-counter products:
Using an LED light to activate the peroxide gel significantly speeds up the process. A one-hour whitening session in our office can produce results comparable to weeks or even months of using an over-the-counter gel.
Your dental team will monitor for signs of sensitivity and adjust the whitening process for your comfort. A fluoride desensitizing gel is applied after the whitening treatment.
Pros: faster and typically more noticeable results..
Cons: more costly compared to other options.
Get Professional Whitening Advice
Many at-home products only target superficial staining on the tooth's surface, rather than whitening the deeper layer of the tooth's surface. Long term use of over-the-counter whitening products can contribute to tooth sensitivity.
Talk with your dentist to discover the best whitening solution for you.