Have you ever wondered how long a dental cleaning should take? A dental cleaning can last anywhere from 45 minutes to 1 hour, depending on the type of cleaning you need.
In this blog post, we'll explore what to expect during your dental cleaning appointment, the different types of cleanings, the benefits of regular cleanings, and tips for keeping your teeth clean and healthy between appointments.
What to Expect During Your Dental Cleaning Appointment
During your appointment, your dental hygienist will use tools designed to remove tartar from your teeth. It can include specialized instruments to break up plaque and tartar on the surface of your teeth. The hygienist may also use hand instruments such as picks and probes with brushes to clean around and between teeth.
It's important to note that during a dental cleaning, the tools used are designed specifically for removing plaque and tartar from teeth surfaces without damaging enamel or other sensitive areas of your mouth.
Importance of Routine Dental Cleanings
In addition to removing plaque and tartar from your mouth, regular dental cleanings are important because they give the hygienist a chance to check for any signs of gum disease or other issues with your oral health before they become more serious problems. During the appointment, they can also guide you in brushing and flossing correctly so you can maintain good oral hygiene at home between appointments.
What Type of Dental Cleaning Is Right for You?
The type of dental cleaning you need depends on several factors, including the condition of your teeth and gums and how much plaque and tartar buildup there is.
If you have healthy teeth and gums with minimal plaque buildup, then a routine cleaning is likely all that's needed. However, if there's more significant buildup or signs of gum disease, a deeper scaling may be necessary, which could take longer than an hour.
How Often Should I Have a Dental Cleaning?
The frequency of your cleanings depends on several factors, such as how healthy your teeth and gums are, any risk factors you may have (such as smoking or diabetes), and whether or not you have had any cavities in the past year.
Most people have their teeth cleaned once every six months. Your dental hygienist can help you determine the best schedule for you, depending on the current state of your dental health.
Benefits of Having Regular Dental Cleanings
Several benefits come with regular dental cleanings, and it's helpful to understand why they're so important for your overall health.
Detecting Problems Early On
One of the most significant advantages of scheduling regular dental checkups is that it enables you to detect problems early on.
For example, if you have cavities, gum disease or any other oral health issue, it's possible to spot it during a routine examination before it becomes more serious.
In addition, many issues can be treated quickly and easily when detected in the early stages. Regular dental cleanings allow you to avoid costly treatments down the road and maintain healthy teeth and gums for years to come.
Preventative Care
Another benefit of having regular dental cleanings is that they provide preventative care for your teeth and gums.
During a cleaning, your dental hygienist removes plaque buildup around your teeth and gums, which helps to prevent further damage from occurring in these areas.
In addition, there will be an opportunity to discuss different lifestyle habits that can help you maintain good oral hygiene, such as brushing twice a day and flossing regularly.
Improved Overall Health
Finally, having regular dental checkups can have positive effects on your overall health as well.
Oral health is closely linked with physical health. Individuals who neglect their oral health can suffer from more severe medical conditions than those who take better care of themselves.
This means that by having regular dental cleanings, you could potentially improve not only your oral hygiene but also your physical well-being.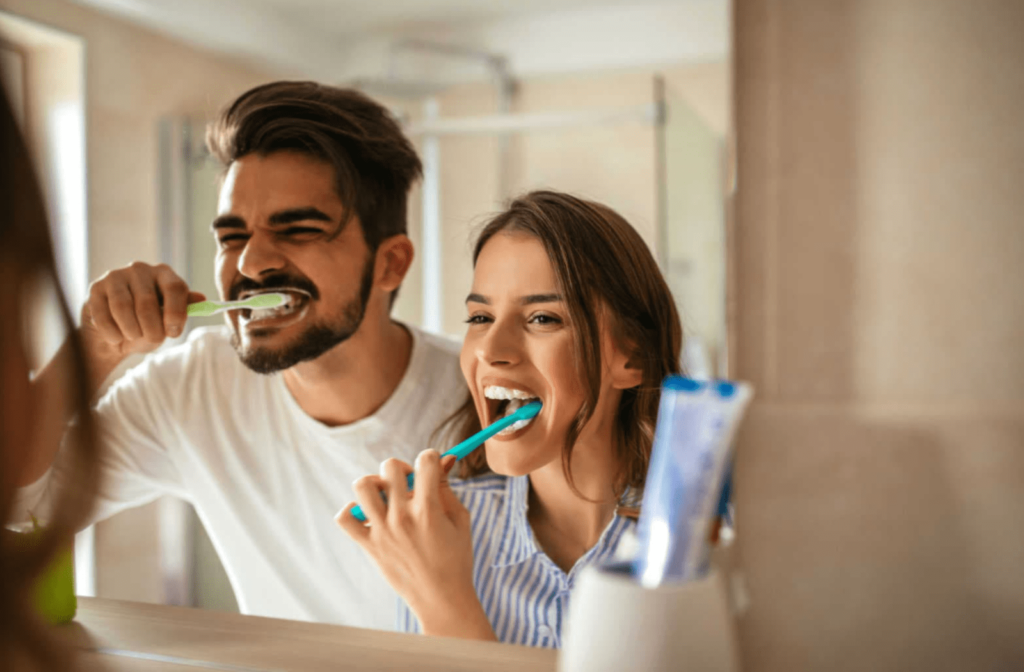 Tips for Keeping Your Teeth Healthy & Clean Between Appointments
A good oral hygiene routine is vital to maintaining your overall health. Here's what you need to know about keeping your teeth clean between dental visits:
Brush Twice Daily
Brushing your teeth twice daily is one of the most important habits for maintaining good oral hygiene. You should brush after every meal, if possible, but at least twice daily—once in the morning and once before bedtime.
When brushing, be sure to use a soft-bristled toothbrush and fluoride toothpaste. Brush thoroughly along all surfaces of the teeth, including front and back, as well as around the gums. Spend at least two minutes brushing each time.
Floss at Least Once a Day
Flossing is just as important as brushing to keep your mouth clean between dentist appointments. Flossing helps remove plaque and bacteria from areas that can't be reached with a toothbrush alone, such as between the teeth or below the gum line. Aim to floss at least once a day, preferably after dinner, so that any food particles are removed from between your teeth before you go to bed at night.
Use Mouthwash
Mouthwash can help reduce bacteria in hard-to-reach places in your mouth that may not have been reached by brushing and flossing alone. It can also help freshen your breath and protect against cavities by strengthening the enamel on the surface of your teeth. Aim to rinse with mouthwash daily after brushing and flossing for maximum benefit. Look for an alcohol-free mouthwash with fluoride added to protect against decay or gum disease.
Enjoy a Thorough & Reliable Cleaning with Ti Dental
A dental cleaning generally takes around 45 minutes to 1 hour. However, the length of your appointment will also depend on how long it's been since your last visit and if you require additional treatments.
At Ti Dental, we pride ourselves on providing thorough cleanings that leave you with a lasting smile. Our team is warm and friendly, and our office has a calming atmosphere to help inspire confidence. We take the time to thoroughly educate our patients about their oral health so they can make informed decisions about their treatment options.
If you have any questions or would like to book an appointment, please don't hesitate to contact us.