Anyone can get veneers, right?
Unfortunately, they aren't ideal for everyone, so how do you know if you're a good candidate? Your dentist can determine your eligibility, but learning more about veneers can help you determine if you're a candidate.
What Are Veneers?
Veneers are custom-made coverings for the front side of your teeth. They are made from tooth-coloured materials and act as shells over the teeth to improve their overall appearance. A tooth's colour, shape, size, and length can all change when veneers bond to them.
There are several benefits to having veneers:
The gums tolerate them well
They have a natural, tooth-like appearance
They are stain-resistant
The colour is specifically chosen
They require minimal tooth shaping
Why Get Veneers?
Veneers are often recommended for cosmetic purposes to enhance the appearance of your smile. Many people find having a bright and even smile contributes to improved self-confidence.
Some common reasons people receive veneers include:
Discoloured teeth
Worn-down teeth
Chipped or broken teeth
Misaligned or irregularly shaped teeth
Gaps between teeth
Smaller-than-average teeth
Veneers are semi-permanent. They last between 7 to 15 years, depending on the type of veneer and your oral hygiene habits. These materials have a few differences, including the application process and lifespan.
Types of Veneers
Veneers typically consist of porcelain or composite resin. Each material has specific benefits and a different application process, but both can provide you with an improved smile.
Porcelain Veneers
Porcelain is a strong and durable material. It does not change colour or stain, so you don't need to worry about fading with time. Porcelain veneers take at least 2 visits to apply, but they do typically last longer.
After removing a small portion of your enamel, your dentist will make a mold of your teeth. You'll wear temporary veneers on the prepared teeth for about two weeks. When the porcelain veneers are ready for application your dentist will remove the temporary veneers. The finished product is attached to each tooth individually using a tooth coloured bonding material.
Composite Veneers
Composite resin veneers require 1 dental visit. This material usually doesn't last as long as porcelain veneers.
The chosen resin will match the colour of your tooth to blend in easily before being applied in different layers. A bright light hardens each layer of resin.
After hardening the last layer of resin, your dentist will shape and polish the veneer to form the tooth.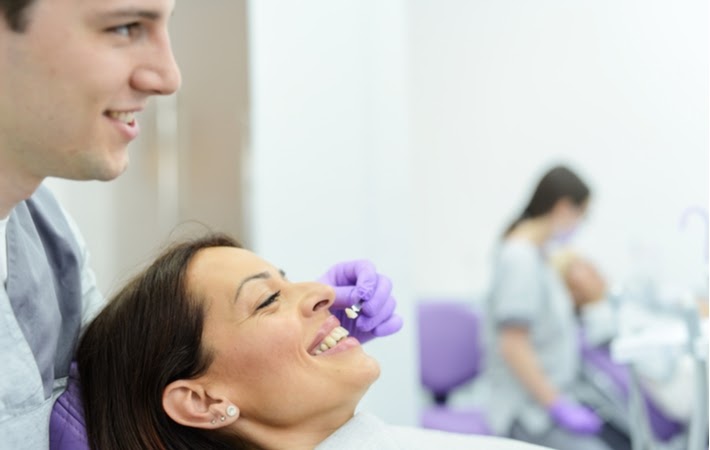 What Can Affect You Getting Veneers?
Not everyone is eligible for veneers, and your dentist has several factors to consider before proceeding forward. Your oral health, habits, and teeth themselves can impact your candidacy.
Your dentist may determine veneers aren't the best option if you have:
Tooth Decay
Tooth decay occurs when bacteria permanently damage areas of your teeth, developing tiny holes. When left untreated, decay can worsen and lead to tooth infections.
If you have tooth decay and are considering veneers, the decay must be treated first with dental fillings. Once this is complete you may be a suitable candidate.
Inadequate Enamel
Enamel is the thin and protective covering of the tooth. It protects your teeth from damage during daily use such as:
Chewing
Biting
Oral habits
Grinding
Some people may have little enamel left on their teeth due to tooth erosion or other complications. Without enough enamel on your tooth, a veneer is unlikely to last.
Not Enough Tooth Surface
Many patients receive veneers when they have chipped a portion of their tooth. Eligibility depends on how much tooth is missing.
If there is too much tooth missing, a veneer may not be the best treatment choice for you. Your dentist may recommend another option, such as a crown if needed.
Clenching or Grinding Teeth
Many grind or clench their teeth. This condition is known as bruxism, and it can cause significant damage to your jaw and teeth. Bruxism can affect your eligibility for veneers if your dentist believes it is severe enough.
Due to the frequent grinding and clenching of your teeth, bruxism can also cause damage to porcelain veneers.
If you frequently clench or grind your teeth, speak with your dentist about your veneer eligibility. They can help determine if you can receive a different veneer material or find another solution.
Determine Your Veneer Candidacy
Veneers can be beneficial for anyone looking to feel confident with their smile, but make sure you're a good candidate first. Speaking with your dentist is the best way to learn more about this procedure. If you're interested in veneers or have any questions or concerns about them, visit your dentist.