Brushing your teeth, whether with an electric toothbrush or a manual toothbrush, is an integral part of your overall oral health routine. Brushing your teeth at least twice per day with fluoride toothpaste, for at least two minutes per session helps prevent gum disease and tooth decay.
You should also floss at least once per day to ensure that you are cleaning between your teeth and below your gum line as well.
The Benefits of Electric Toothbrushes
Electric toothbrushes have many benefits, which can make them more effective at preventing gum disease and tooth decay than their manual counterparts.
Not Brushing Too Hard
The best toothbrush is, ultimately, the one that you are going to use. Manual toothbrushes are incredibly affordable, and never need their batteries replaced. However, a 2013 study found that individuals who used manual toothbrushes were more likely to press too hard while brushing, which can increase your chances of damaging your teeth and gums.
Getting Your Full Two Minutes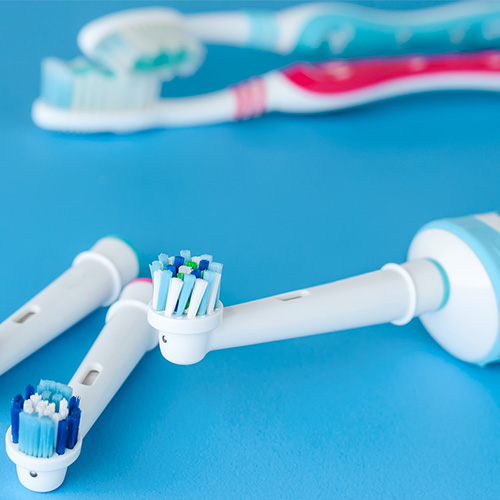 Most electric toothbrushes also include a built-in timer function, which can help ensure that you are brushing for the full two minutes. Many models also remind you to switch to a new section (upper left, upper right, bottom left, and bottom right) of your mouth every 30 seconds, which helps ensure that each area is receiving the appropriate care and attention.
More Effective at Plaque Removal and Gingivitis Prevention
A systematic review published in the Journal of Dentistry in 2004 found that electric toothbrushes are significantly more effective than manual toothbrushes at removing plaque and preventing gingivitis. This is because the head of the electric toothbrush moves on its own, helping you ensure that you are using enough brushing power, without too much pressure, to remove plaque.
Easier to Use
Since the spinning head of your electric toothbrush does most of the work for you, electric toothbrushes can be a better choice for individuals with limited mobility (such as patients with carpal tunnel or arthritis) or small children who are still mastering their fine motor skills.
Individuals with orthodontic appliances, such as braces, may also find that it is easier to brush with an electric toothbrush than a manual toothbrush because the small head makes it easier to get into tight spaces, and the spinning or automatic back and forth motion means that you don't have to manipulate the toothbrush as much to brush effectively.
Some children, particularly younger ones, may be reluctant to brush their teeth. Using an electric toothbrush can make this activity more interesting, and can help parents teach their children good oral health practices and develop a comprehensive brushing technique from an early age.

A Brush Up on Good Oral Health
No matter what type of toothbrush you choose what matters most is your brushing technique and oral health routine.
Floss First
Flossing is vital because it ensures that you remove plaque from hard to reach places, such as between your teeth and under your gum line.
You should be flossing your teeth at least once per day and should floss your teeth before brushing, not after. According to a 2018 study published in The Journal of Periodontology flossing before brushing is more effective at removing plaque from between your teeth.
How to Brush Your Teeth Correctly
Brushing your teeth properly isn't difficult, but there is a right way to do it. Brushing your teeth correctly ensures that all of the plaque and bacteria are removed from the surface of your teeth.
Angle your toothbrush: You should angle your toothbrush so that you are brushing your teeth at a 45-degree angle, and direct your bristles towards the portion of your teeth where they meet your gums.
Use a gentle, circular motion: You should brush using a gentle, circular motion and avoid scrubbing your teeth. If you brush too hard, you can wear down your gums and potentially damage your enamel.
Brush all surfaces thoroughly: When you brush your teeth, you should make sure that you are brushing the front, back, and chewing surface of each tooth, and make sure to get the hard to reach sections at the back of your mouth.
Take your time: Don't rush through your brushing routine. A thorough brushing should take two minutes.
Vary your brushing pattern: You should also avoid brushing your teeth in the same pattern since this can cause you to miss the same spots repeatedly. To help you change up your routine try going through your usual brushing pattern in the morning, and then going through it in reverse before you go to bed.
Whether you choose an electric toothbrush or a manual toothbrush, you should select a toothbrush with soft bristles, and you should replace your toothbrush or toothbrush head at least every three months. You should also replace your toothbrush after you have had a cold, the flu, a mouth infection, or a sore throat. This will ensure that you don't reintroduce germs into your mouth, potentially reinfecting you. If you are unsure what style of toothbrush best for you, speak to your dentist or dental hygienist. They will likely be able to make a recommendation based on your unique dental needs.