When you have a gap in your smile, it can impact your confidence and oral health. The loss of a permanent or adult tooth can create daily challenges.
Whether you lose a tooth suddenly or it's a planned extraction, you need more than a filling to replace a tooth. Fortunately, missing teeth can be replaced with dental implants, bridges, or dentures. Learn about common causes of tooth loss and your options for restoring a lost tooth.
What Causes Tooth Loss?
There are many reasons you might lose a tooth, from injury to disease. However, the most common cause of tooth loss is tooth decay. Tooth decay happens when the bacteria from dental plaque create acids. The acids eat through the tooth, creating a cavity or hole. Eventually, the deterioration can spread, weakening the tooth.
The excess bacteria can lead to gum disease, affecting gum health and increasing infection risks. Advanced gum disease (periodontitis) can also cause loose teeth and bone loss.
A dentist may also recommend a tooth extraction when teeth are overcrowded or deemed medically necessary. For example, wisdom tooth removal is standard when there's no room for extra molars. Although extracting wisdom teeth does more good than harm, missing other teeth can impact your oral health.
The Impacts of Tooth Loss
Replacing a missing tooth is more than a cosmetic fix, as tooth loss can impact your oral health in many ways. Tooth loss can affect the way your smile looks, and you might worry about food getting stuck in the gap. Food debris or bacteria buildup trapped in a gap can produce acids and cause gum disease.
A missing tooth can affect how you eat or speak. Depending on the spot of the missing tooth, it may be more challenging to form certain sounds or bite foods comfortably.
You may chew more on one side, overexerting your jaw and facial muscles. As a result, you may develop a temporomandibular joint (TMJ) disorder. This condition can cause chronic jaw, face, or neck discomfort. TMJ disorders can also reduce jaw movement, cause headaches, and wear down teeth.
After a tooth is extracted or lost, your remaining teeth may shift to fill the space. This movement could lead to a misaligned bite or crooked teeth. Orthodontics treatment may be necessary to correct alignment issues.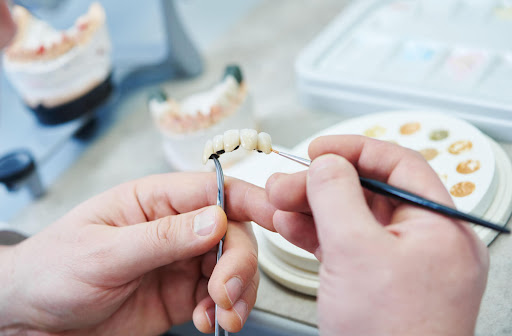 Tooth Replacement Methods
There are 3 common ways dentists can replace missing teeth: dental implants, bridges, and dentures. Your dentist can recommend the most appropriate solution based on your dental health needs.
Dental Implants
A dental implant replaces a tooth from the root—the part of the tooth below the gumline—with a surgically inserted titanium post. Over a few months, the jawbone and gum tissue heal around the artificial root, providing a secure hold for a replacement tooth.
A post connected to the implant rises slightly above the gum line so your dentist can attach an artificial top or crown. The implant may provide stability for a single crown, dental bridge, or dentures.
A good candidate for a dental implant should have healthy gums and enough bone structure to hold the implant. Patients who've experienced jawbone shrinkage or tissue loss because of missing teeth may still be candidates after bone grafting (to add new bone) or soft tissue grafting (to restore gums).
Placing the dental implant and attaching the replacement tooth takes at least 2 visits (or more if grafting is necessary). After your recovery, a dental implant can feel and function like a natural tooth. It can also look natural, depending on the type of replacement top.
Bridges
A dental bridge is a custom-fitted fixed replacement for one or more missing teeth. The name comes from how the artificial tooth is supported, with 2 sides or attachment points. A traditional bridge fuses the crowns onto healthy, natural teeth. When natural teeth cannot support a bridge, our dentists can fix a crown to a dental implant.
There are multiple bridge types. Your dentist can recommend an appropriate type depending on your oral health needs and the location of the missing teeth.
Dentures
When most people picture dentures, they likely imagine standard complete dentures. But, there's more than one type. Dentures can replace multiple missing teeth or only a few (partial dentures).
Traditional dentures stay in place with suction and are removed for cleaning. Overdentures can fit over remaining natural teeth or snap in by attaching to dental implants. Some patients prefer overdentures as they feel more like natural teeth. Dental implants and overdentures can also help prevent jaw bone loss.
Visit Us for Customized Solutions
At Ti Dental, we want our patients to feel confident about their smiles. The way your teeth feel and look can make a daily difference. Missing teeth can make you shy to smile and lead to oral health problems.
After evaluating your dental health and discussing your needs, we can recommend a customized treatment option. Request an appointment today to see how we can help restore your smile!