Constant disruptions from TMJ headaches can ruin your day. Various conditions that affect your jaw can cause those headaches, so getting a clear diagnosis and treatment that can help address those causes is essential for getting relief.
Many people tend to think of their dentist as someone who provides dental cleanings and fillings, but there is so much more a dentist can offer. Consider temporomandibular joint (TMJ) disorders, which can cause a range of symptoms, including debilitating headaches. Your dentist can diagnose TMJ disorders and offer treatments to help you get relief, such as mouthguards to prevent teeth grinding.
What Is a TMJ Headache?
Your temporomandibular joint (TMJ) connects your jaw to your skull. It's a vital hinge that allows you to talk, laugh, and eat. A lot of muscles in your cheek and jaw help this joint open and close, and when they tense up, they can cause pain that feels like a headache.
It can be hard to tell the difference between general headaches and TMJ headaches, and you may default to thinking you have the former, but temporomandibular disorders (TMDs) are fairly common. Between 8–12% of Canadians experience pain from TMDs, so if you have a headache without an obvious trigger, your jaw may be to blame.
Recognizing TMD Symptoms
While headaches are one of the most common symptoms of TMDs, other symptoms could also be a sign you're experiencing TMJ headaches.
Symptoms of TMDs include:
Facial or jaw pain and tenderness
Trouble opening or closing mouth
Tight facial muscles
A clicking, popping, or grinding noise when opening or closing your mouth
Neck pain
A change in the way your top and bottom teeth fit together
Causes of TMJ Headaches
TMDs can have several underlying causes, and it's not always immediately clear which one is at fault. Common causes of TMJ headaches include:
Injury to the jaw
Stress
Teeth grinding (bruxism)
Jaw misalignment
Joint disorders like osteoarthritis
Do You Grind Your Teeth?
Tooth grinding is one of the most common causes of TMJ headaches. Teeth grinding is also called bruxism, and many people don't even realize they do it. In fact, you could be grinding your teeth in the middle of the night and the only way you'd know is if your partner notices or your dentist sees the signs during an exam.
Sleep bruxism, as it's called, can affect anyone. It's been self-reported by 12–20% of children, 8–16% of adults, and 3–6% of seniors. While you're grinding your teeth, you're also tensing your jaw muscles. Over time this can wear down your teeth and cause headaches as your muscles clench.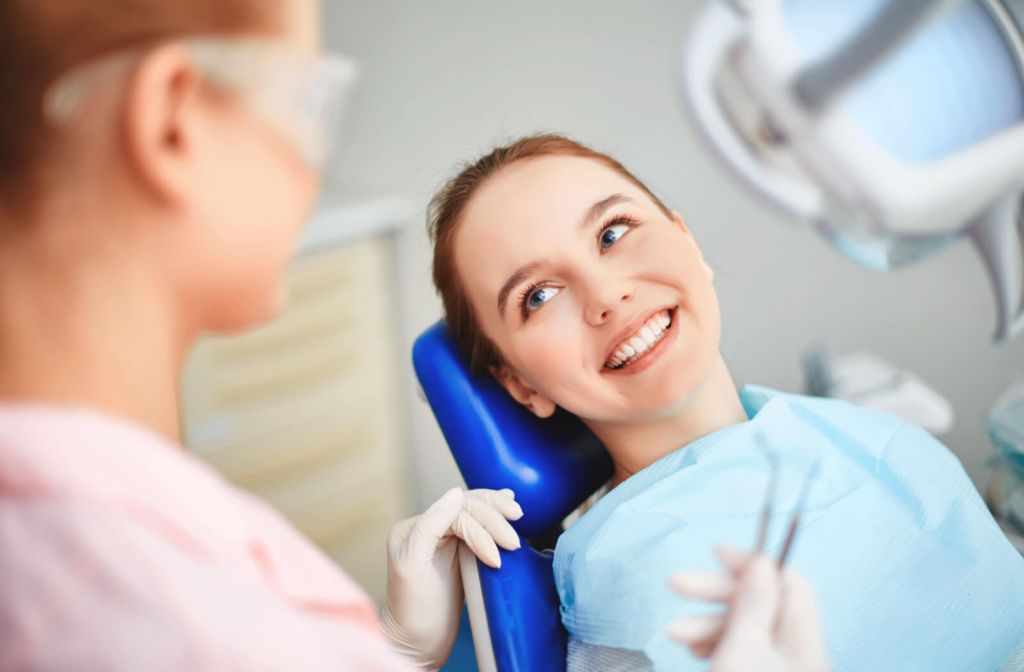 How Your Dentist Can Help
As your dentists, we are equipped to diagnose and treat TMJ headaches. We have a comprehensive understanding of the temporomandibular joint and its intricate workings. By considering your symptoms and conducting a thorough examination, we can diagnose the underlying cause of your TMJ disorder.
Once we pinpoint the cause, we can offer TMD treatments to help relieve your joints and head pain. While medicines for pain, inflammation, and tense muscles can help with some symptoms, taking the extra step may help prevent future TMJ headaches.
Mouthguards & Splints
To manage bruxism, we may prescribe an occlusal splint or mouthguard to wear on your teeth. This custom-made, clear plastic appliance sits on your top or lower teeth. It makes it so you bite against the splint rather than your other jaw, thereby protecting your teeth and helping your jaw muscles relax.
Lifestyle Changes
It's unclear if stress causes TMDs, or is caused by them, but they are linked and can feed off each other. Your dentist may suggest lifestyle changes to help alleviate teeth grinding and TMJ headaches, such as meditation, yoga, or other stress reduction techniques.
Avoiding hard, chewy foods and adopting good posture can also help reduce strain on the jaw.
Therapies
A dentist may refer you to a physiotherapist, chiropractor, or behavioural therapist to help ease jaw muscle pain and avoid tooth grinding. Since a lot of grinding can happen at night, some approaches to treatment involve improving your quality of sleep by changing your bedtime routine.
Surgical Procedures
Your dentist may recommend surgical treatments to correct your bite. The idea is that surgery could help improve jaw function and reduce the effects of TMJ for those with severe symptoms. However, surgery is generally used as a last resort if all other treatments have failed.
Take the First Step Toward TMJ Relief
Your dentist might not be the first person you think of when it comes to treating headaches, but they can play a crucial role in relieving pain and getting lasting TMJ relief.
At Ti Dental, we offer custom-fitted mouthguards that can help patients get TMJ relief by absorbing the force that comes from teeth grinding. If you have headaches caused by TMJ pain, request an appointment with our caring team today!