What Are Veneers?
Veneers are a cosmetic dental option for patients who dislike the appearance of their front teeth. They are thin tooth-shaped shells that are permanently bonded to the front teeth and visible when you smile. Veneers are a good option for those who have stained teeth that cannot be whitened with bleaching or those with chipped or worn teeth.
What Are The Different Types of Veneers?
Veneers are most commonly made from porcelain or composite resin. Porcelain veneers aren't susceptible to stains and discolouration and are more durable, often lasting 10-15 years. They are made in an off-site lab after taking an impression or mold of your teeth, so porcelain veneers may take 2 or more visits to apply. The durability of porcelain veneers comes at a greater expense, however, and they can cost up to twice as much as composite veneers.
Composite resin veneers are made out of a ceramic and plastic compounds that mimic the appearance of natural teeth and last between 5-7 years. They can be fabricated same-visit directly onto your teeth and are usually completed in 1 visit. Veneers are usually not covered by insurance, so composites can be more affordable as they are less expensive depending on the individual case.
Each type of veneer has its advantages and disadvantages, and some may work better for some than they would for others. Always consult your dentist for a professional opinion on what is best for you.
Who Should Get Veneers?
Veneers can help you if you aren't happy with the way your smile looks. Chipped or broken teeth, dark stains or irreversible discolouration, gaps, or crooked teeth can cause insecurities surrounding your smile. Veneers can help restore your confidence in your smile.
However, veneers still need proper care to prevent damage and are not restorations designed to protect teeth damaged by decay. If you have healthy front teeth, you are likely a good candidate for veneers.
A healthy bite is also required to promote the longevity of veneers, as an imbalanced bite can cause them to fail early. Your dentist will be able to evaluate your bite before installing veneers.
Additionally, veneers need to be cared for as you would your natural teeth with proper dental hygiene and regular dental exams and cleanings.
Who Shouldn't Get Veneers?
Your dentist will be able to suggest the best treatments for you and your oral health and will let you know if you aren't the best candidate for veneers.
If you suffer from periodontal disease (gum disease) or have tooth decay, these will need to be treated before fitting veneers. Additionally, if you clench your jaw or grind your teeth, this may cause the veneers to break or chip.
How Do Veneers Work?
Before being fitted with veneers, your dentist will provide a comprehensive dental exam and x-rays to ensure you are of good oral health before moving forward with the procedure.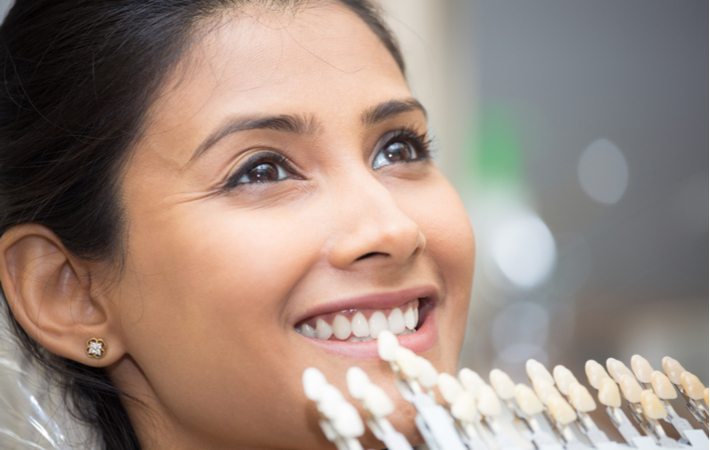 For porcelain veneers, your dentist will file off about a ½ millimetre of tooth enamel to properly fit the veneers. They will then take a mold of your teeth and send it off to a lab that will prepare your veneers, which takes around 1 to 2 weeks. You will likely be fitted with temporary veneers while they are being made.
Once your veneers are ready, your dentist will thoroughly clean your teeth and roughen the surface so the veneer will properly adhere to each tooth.
How Are Veneers Attached to Your Teeth?
Before the veneer is permanently bonded to the tooth, your dentist may remove it to trim it and ensure proper colour and fit. They are then attached to the tooth using special dental cement, and it is hardened with ultraviolet light that activates certain chemicals and allows it to cure quickly.
After application, your dentist will remove any excess cement and evaluate your bite. You may need to return to your dentist for a follow-up appointment to see how your gums and mouth are reacting to the veneers and ensure the placement is correct.
What are the Alternatives to Veneers?
If you suffer from bruxism, have too little tooth enamel, or cannot afford veneers, there are other options to achieve the white smile of your dreams.
Professional teeth whitening can remove stubborn stains from tea, coffee, tobacco, and time. It can provide you with a noticeably whiter smile in 1 visit.
Invisalign can help to adjust crooked teeth in a less invasive way than braces through applying pressure on the teeth from removable plastic retainers.
Crowns can repair broken or worn teeth if you are looking to repair a single tooth.
FAQs
Are Veneers Permanent?
Your dentist will need to remove a thin layer of the enamel on your teeth to place the veneers, so they are a permanent solution. However, depending on the type of veneers you get and your oral care habits, they will need to be replaced every 5 to 15 years.
Can Veneers Cover Gaps in Your Teeth?
Small teeth make excellent candidates for veneers, as veneers are placed on top of the natural tooth to provide a larger, straighter, whiter smile.
Do Veneers Make Your Teeth Look Bigger?
Veneers are designed to be a cosmetic procedure, so you can ask your dentist to design your smile however you would like it, within reason. Veneers won't make your teeth look bigger unless you want them to.
Do Veneers Look Natural?
Veneers are attached with dental cement that mimics the colour of natural teeth, and the shape is designed to your preference.
Is It Painful to Get Veneers?
The only minimally-invasive component of the procedure for veneers is when your dentist removes a small layer of enamel to place the veneer on top. No pain or discomfort is reported in most patients who have gotten veneers.
If you're curious about veneers, or want more information, contact Ti Dental today! We'll work with you and your dental needs to find the right solution for your smile.