Dental implants are a popular choice for patients who are missing teeth. Dental implants not only improve the look of your smile but they also help improve oral health. If you're considering dental implants, here's your chance to learn a bit more about the procedure.

What is a Dental Implant?
A dental implant is an artificial tooth that is surgically implanted to replace missing teeth. Dental implants can replace a single tooth or multiple teeth depending on the patient's needs. A typical dental implant is made up of 3 parts:
A post
An abutment
A crown
The post acts like your tooth's natural root and is inserted into your jaw. The abutment, sometimes referred to as the connector, is what attaches the post to the crown. And the crown is the part of the implant that is designed to look like a natural tooth and the only part of the implant that will be visible once the surgery is complete.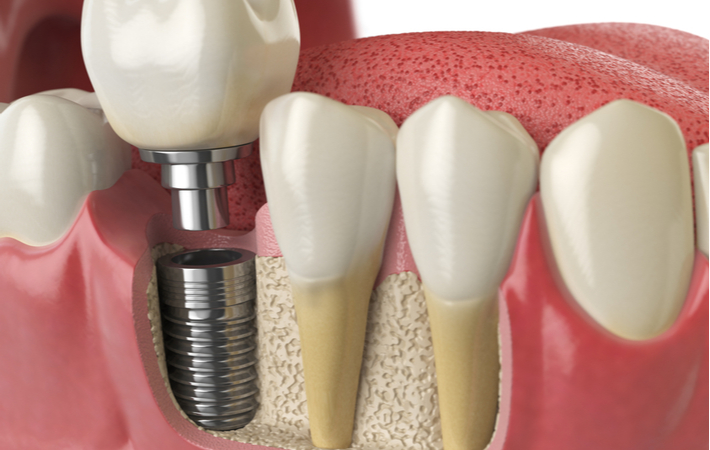 What Role Does a Dental Implant Play in Oral Health?
Dental implants have the benefit of improving the look of your smile and your confidence, in addition to some pretty significant health benefits. Dental implants can improve your ability to chew and prevent teeth from shifting, and that's just the start.
Missing teeth don't just leave a gap in your smile, they can actually change the shape of your face and your jaw alignment. By replacing your missing teeth with implants, you can restore the shape of your face and your jaw alignment. Dental implants also help prevent the weakening of your jaw bone caused by tooth loss.
Tooth loss is known to be a contributing factor to tooth decay. When you are missing a tooth or multiple teeth, the exposed surface area of your remaining teeth increases. This leaves more room for bacteria to grow, which leads to tooth decay. Tooth decay can be more minor and present as cavities. In severe cases, however, missing teeth can lead to periodontal disease, a more severe bacterial infection of the gums that can cause jaw decay if left untreated. Dental implants can help reduce the risk of cavities and more advanced gum disease.

What Are Implants Made Out Of?
As discussed earlier, dental implants are consist of 3 main parts: the post, the abutment, and the crown. In most modern implants, the post is made from titanium metal. The abutment, which attaches to the post, is often made from titanium as well. In some cases, it can also be made from gold, stainless steel, or zirconia. The crown is made to look like a natural tooth for most patients, so the crown is made from ceramic, zirconia, or porcelain. In some cases, the crown can be made from metal or gold depending on the patient.

What Should Someone Expect When Getting a Dental Implant?
Getting a dental implant is a surgical procedure and follows similar steps to most surgeries. First, your dentist will begin with a consultation, followed by installing the implants, and finally, place the crowns. The process takes several appointments spread over the course of a few months.
The consultation begins with getting to know you and your dental needs. Your dentist will learn more about what you're hoping to get from implants and assess your mouth health. This includes an examination of your jaw to make sure your bone can support implants, otherwise, they may recommend a bone graft before implants. The initial examination will also include x-rays of your mouth, jaw, and head.
Once your dentist has determined you're a good candidate for dental implants, the next step is placing the implants. Your dentist will completely numb the area with a local anesthetic and begin placing the titanium rods in your jawbone. When this step is done, the implant will protrude from your gum slightly, acting as a base for your artificial tooth or crown.
After the rod is implanted, your gums and jaw need to heal before the next step of your dental implant. Over the next few months, the titanium rod will adapt to your bone and act similarly to a natural tooth root. This process is known as osseointegration and for most patients, it takes 3 to 6 months.
Once the jaw and gums have completely healed, the next step is to install the abutment. Some patients elect to have the abutment installed at the same time as the rod, but many prefer not to as the abutment will be visible during the healing process. Instead, most patients have the abutment installed during a separate, simple procedure that only requires local anesthetic. The gum will be reopened to expose the rod and then the abutment is installed, making the process a quick outpatient procedure.
Finally, after a few weeks when the gums have healed again, the crown can be installed. Depending on the number of teeth being replaced, it can take a few appointments to have your crowns properly fitted to the abutment. After the crowns have all been placed, your dentist will schedule follow-up appointments with you to make sure there aren't any issues with your implant. Dental implants have a success rate of 90% to 95% but that number is lowered if you're a smoker or you don't maintain good oral hygiene.

Who Should Get an Implant?
Dental implants are a good option for most patients who are missing one or multiple teeth. That said, dental implants require good dental hygiene, just like natural teeth. You must be prepared to maintain good oral hygiene, even with a dental implant.
Depending on the cause of your missing teeth, you may not be a candidate for dental implants. Dental implants require a healthy jawbone and gums to reduce the chance of the implant being rejected.
Patients with illnesses that compromise their immunity or ability to heal are often not good candidates for dental implants. Illnesses such as diabetes, leukemia, and other autoimmune diseases increase the likelihood of rejection for dental implants. For patients with these illnesses, other options are available to replace missing teeth.

What Are Alternatives to Implants?
Two alternatives to implants include bridges and dentures. Bridges essentially bridge the gap between your remaining teeth and your missing teeth. Crowns or replacement teeth are attached to your remaining teeth, filling in any gaps in your smile.
Dentures are another alternative if bridges aren't an option for you or if you are missing a majority of your teeth. Full and complete dentures are available depending on how many teeth you have remaining. Dentures are a complete or partial row of teeth that you remove while you sleep and wear during the daytime.
If you're interested in dental implants or an alternative treatment, we're here to help you through the process. Request an appointment today and get your smile back.