A missing tooth can seem like the end of the word. Fortunately, your dentist has several ways to fill in the space left by missing teeth.
Depending on your needs, they may recommend a dental bridge or a dental implant. Both can replace missing teeth, but many people wonder which is the better treatment.
Dental bridges and implants both have their benefits. The best choice for you depends on your dental needs, budget, overall health, and how many teeth you have missing.
What Is a Dental Bridge?
A dental bridge is used to replace missing teeth. It consists of artificial teeth that connect, helping restore the form, function and look of your teeth. Dental bridges are typically held in place by 2 crowns, which act as the anchors of the bridge.
While dental bridges are artificial teeth, they require the same care as natural teeth. You should brush and floss your dental bridge at least twice daily. Proper hygiene can help prevent food from becoming stuck around the bridge.
Besides daily care, booking regular dental exams is essential to help keep your bridge functioning at its best.
When Do You Need a Dental Bridge?
Whether you're missing one tooth or many, dental bridges can benefit your health. Missing teeth can make it harder to chew, and you risk your other teeth shifting out of place. A replacement tooth protects the integrity of your smile.
You might get a dental bridge to:
Restore your smile
Re-adjust your bite
Prevent teeth from shifting
Maintain your facial shape
Help with speech
Improve your chewing ability
How Do Dental Bridges Work?
Dental bridges replace missing teeth using 2 crowns as anchor points for your artificial teeth. Your dentist trims down the teeth around the missing tooth to prepare them for a bridge. Two dental implants can also be used as anchor teeth, depending on your situation..
They create a mould of your teeth to send to a dental lab for fabrication of your customized bridge. Once the bridge is ready, it's anchored in place using dental glue.
What Is a Dental Implant?
Dental implants can also replace missing teeth. A titanium post is inserted into the space left by the missing tooth. A dental crown is placed above the gumline on the top of the implant. Think of the dental implant as your tooth's root and the crown as your tooth.
This dental procedure occurs over several appointments, usually taking a few months to complete.
When Do You Need a Dental Implant?
Dental implants can replace one missing tooth or many, using a single crown or a dental bridge to act as your replacement tooth.
The Canadian Dental Association states that someone with good general health, healthy gums, and enough bone density can receive a dental implant. You'll need a bone graft if your jawbone isn't thick enough.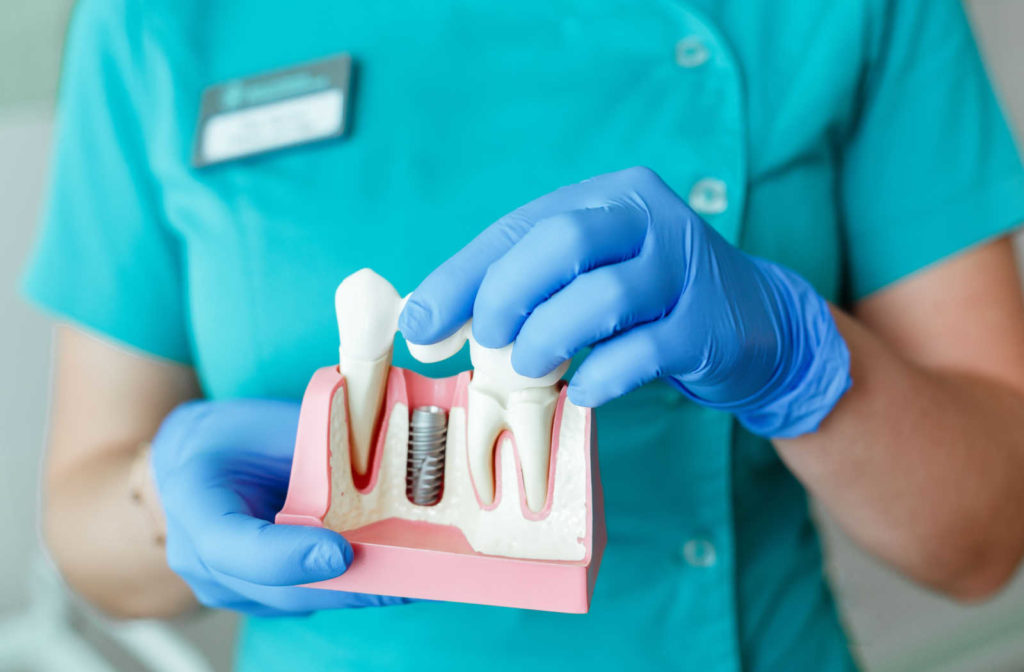 How Do Dental Implants Work?
Dental implants work by fusing a titanium post with your jawbone, acting as the root of your tooth. A crown then attaches to this implant.
The dental implant process takes several months to complete as the titanium post takes time to fuse to the jawbone.
You can expect the following during the dental implant process:
Consultation: Your consultation helps your dentist determine your eligibility for this procedure.
Implant placement: Your dentist inserts a titanium implant into the space left by the missing tooth. You then heal for several months as your jawbone fuses to the implant.
Crown placement: Once healing is complete, your dentist attaches a customized crown to the dental implant.
Dental Bridge or Implant: Which is Right for You?
Generally, no treatment is better than the other. Dental implants and bridges have different benefits for patients.
It's suggested that you speak with your dentist for their opinion. They can recommend the best procedure after examining your teeth and mouth.
Several factors may influence which dental treatment is best for your needs, such as:
Missing teeth: A dental implant may be better for your needs if you only have one missing tooth. Dental bridges are ideal for patients with multiple missing teeth.
General health: Implants may not be ideal if you have any medical conditions affecting how fast you heal.
Cost: Your insurance coverage and budget can influence which restorative treatment is best for your needs. Speak with your dentist about the overall costs for each procedure.
Treatment time: A dental bridge takes a few weeks to complete, while dental implants require months.
Restore Your Smile Today
Dental bridges and implants can help restore the form, function, and appearance of your teeth. Your dentist can help recommend the best treatment based on your budget, time, and dental needs. Contact us at Ti Dental if you're interested in dental bridges or implants. We can create a treatment plan after assessing your dental health.